Perfect for offices, parties, events & more.
Certified & trusted practitioners, all screened in person
Watch our promo video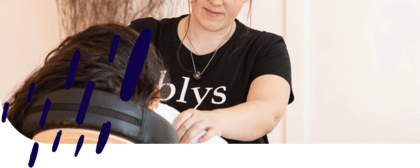 Swedish Relaxation Massage
Perfect for offices, parties, events & more.
Make your event extra special for your guests with a Blys Massage!
Blys is Australia's #1 mobile massage service, connecting you with fully qualified therapists. We are now available in New Zealand.
In addition to our standard home massage service, we also offer onsite massage for corporate and private events including charity events, end of year parties, hens parties, baby showers, weddings, mums groups and pamper days (just because you deserve it!).
We bring everything with us so you don't have to worry about anything – massage chair/table, towels, and oils if needed.

You can book 1 therapist, or more if you have a larger group.
Simply place your booking online and we'll take care of the rest.
Not ready to book yet?
Contact our friendly team for a chat. We would love to hear from you.
Group Booking Testimonials
Anna was an amazing and professional masseuse who did a great job catering to our individual needs. We would definitely use her again.
Natalie
Georges Hall / Mobile Massage Sydney South
A very big thank you to Blys for providing the best massage therapist Angela for my hen's party at our holiday home in Palm Beach ?
Clarissa
Palm Beach, Sydney
Bernadette was awesome and it was the perfect mid-week pick me up that we all needed! We look forward to booking again.
Brook
Surry Hills, Sydney
Katica was amazing – we were super happy with our massage quality and convenience. I'll definitely be using this service again and recommend it to my friends!
Carolin Y
Wentworth Point, Sydney
We made a group massage booking with Blys for a chair massage for our guests at our Mother's Day event. Karen was amazing & her massage was brilliant. The mum's really enjoyed the massages.
Leeanne B
Eastern Suburbs, Sydney