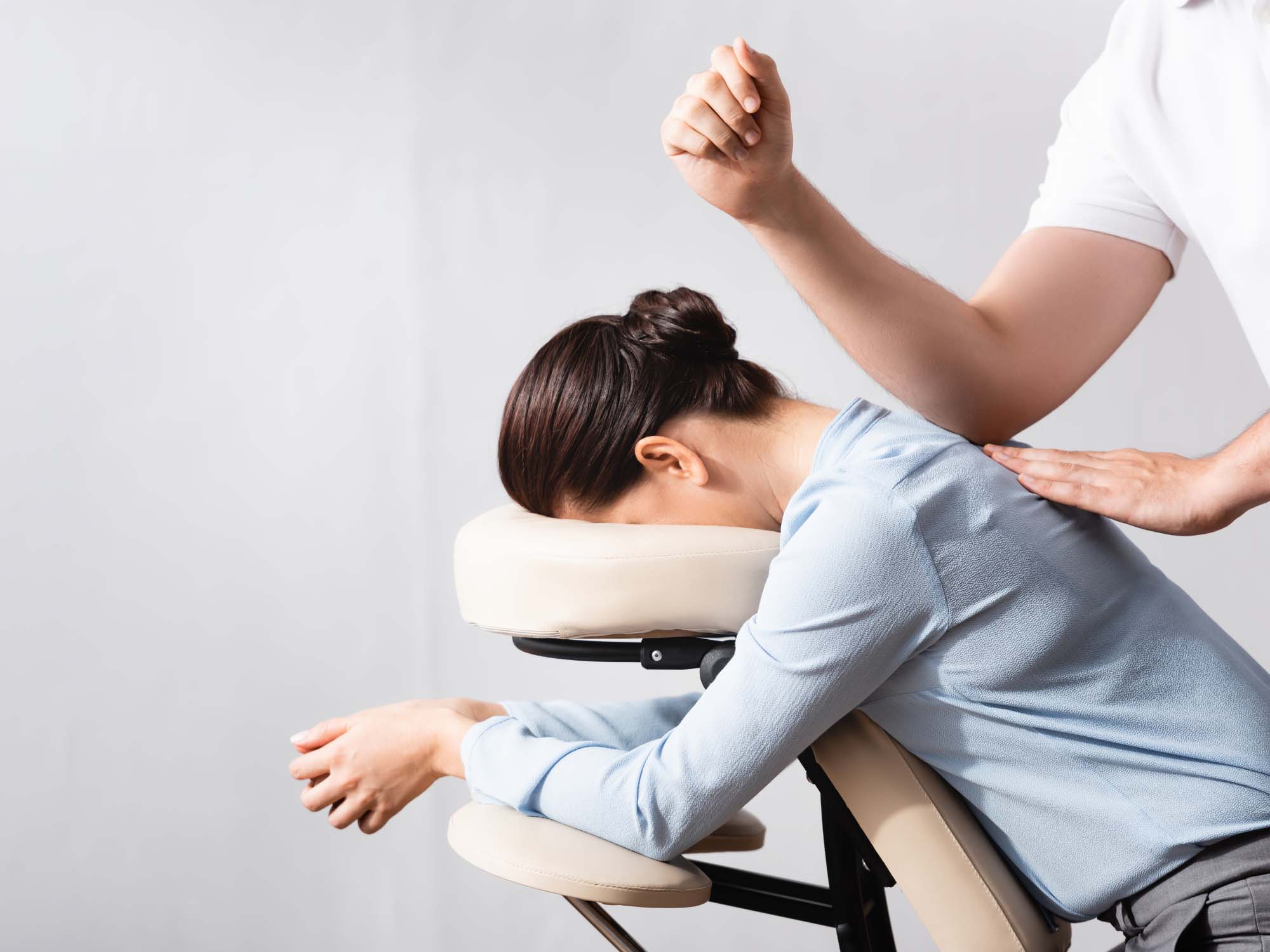 Are you planning your next corporate event? Let's face it: we've all been to cocktail parties, panel conversations and networking dinners with grazing tables and flowing booze before. 
If you're ready to think outside the box and really impress your clients and coworkers, it's time to tap into the power of wellness with a chair massage for corporate events. 
By booking a qualified, professional massage therapist to provide in-chair massage treatments to attendees, you can help guests relieve stress and tension while building a position association with your business. 
Whether you're planning a corporate function, a client event or an end-of-year celebration for your hard-working team, chair massage for events or a mobile corporate event massage adds a touch of relaxation and rejuvenation to your next big occasion. 
So why settle for ordinary when you can elevate your next company event with the incredible benefits of chair massages?
What Is Chair Massage And How Does It Work?
As the name suggests, chair massages for events are a specialised form of massage therapy that provides quick and effective relaxation and stress relief. 
This type of massage offers a unique experience where the client remains fully clothed and sits in a specialised massage chair designed for optimal comfort. The best part? It can be done almost anywhere, even in your office, event space or at a corporate event. 
During a mobile chair massage, the massage therapist will focus on tension areas such as the neck, shoulders, back, and arms, using a range of techniques such as kneading and compression to help release muscle tension and promote relaxation. 
One of the best things about chair massages is that these treatments are fully adaptable to different event settings. Not only do they require less floor space than a typical table massage, but they can be delivered in express sessions (such as 15 to 30-minute treatments), perfect for larger events or corporate gatherings.
Whether you book one therapist or even a team of therapists, an event chair massage is ideal for helping attendees relax, unwind and find a sense of calm at your next corporate event. 
What Are The Benefits Of Chair Massage At Events?
On-site event chair massage services are becoming more common as event organisers (like you!) look for innovative ways to boost attendance and deliver a memorable experience to guests.
But you might be wondering, "What is a chair massage good for?" Let's take a look at some of the benefits it can offer:
Reduces stress and anxiety:

a chair massage gives your guests a chance to relax and unwind, especially if they're navigating a busy event schedule or multi-day conference.

Relieves muscle tension and soreness

: tight shoulders or aching backs can easily be fixed with a quick, supportive chair massage that targets these exact pain points.

Improves circulation and flexibility

: sitting down during long events or seminars can cause the attendee's muscles to tighten. But, a quick chair massage session can get the blood flowing again



Why Get A Chair Massage For My Event?
Corporate massages, including chair massages, have been shown to reduce stress, alleviate muscle tension, and promote overall wellbeing. 
Not only do these speedy, seated treatments provide exceptional stress relief, but they also give attendees a hance to relax and unwind, which can be particularly helpful at corporate events when stress levels can be higher than usual. 
Massage hire for events is also a great way for you to promote enhanced focus and mental clarity. Massage has been shown to improve concentration and cognitive function. By reducing muscle tension, your guests can fully engage in the event's activities, presentations, and networking opportunities. 
Plus, private event chair massage alleviates physical discomfort associated with prolonged periods of standing or sitting, helping attendees feel more comfortable and at ease throughout the event.
How Chair Massage Enhances Event Experience
Chair massage can enhance the overall event experience, creating a relaxed and rejuvenated atmosphere that leaves attendees feeling refreshed and ready for whatever your event has in store. 
As attendees indulge in a special event chair massage session, their stress melts away, and they enter a state of deep relaxation, enhancing both personal well-being and contributing to a calmer ambience throughout the event.
Chair massage serves as a fantastic complement to other event offerings (from networking sessions to team-building activities), enhancing the overall experience for attendees. 
Need some inspiration? Discover how Sydney-based start-up Pendula used 15-minute chair massages to recognise and reward their team. Plus, learn how the team from Human X incorporate chair massages into their recent company retreat, delivered by the team from Blys.
Unique Event Experiences With Private Chair Massage
A chair massage adds a touch of luxury and relaxation to any event. By offering a private event chair massage, your attendees will get a truly unique and memorable experience that sets your event apart. 
The advantages of private chair massage go beyond relaxation. The luxurious nature gives each and every one of your attendees the VIP treatment, elevating the overall event experience with a personalised treatment tailored to each attendee's specific aches, pains and areas of tension.
By offering a seated corporate chair massage for your guests, you're sure to host one of the most memorable events and leave your attendees raving.
What To Expect From A Chair Massage
One of the most common questions about corporate chair massages is this: "How long does a chair massage last?" A typical chair massage session usually lasts between 15 minutes (for events up to 24 people) or 10 minutes (for events up to 32 people).
But because this is your event, communicating your needs with a therapist will ensure that each guest gets a turn at the pace you're after. 
Since chair massages are typically performed while fully clothed, it's recommended to advise your guests to wear loose and comfortable clothing that allows easy access to the neck, shoulders, and back. 
During the chair massage, your guests will be seated in a specially designed ergonomic chair that provides optimal comfort and support. The therapist will adjust the chair to ensure proper alignment and positioning. 
Factors to Consider When Choosing Chair Massage Services for Your Event
Planning an event and considering using chair massage services? Here is a stack of important things to keep in mind when selecting the right provider:
Expertise and professionalism:

Look for a chair massage service that offers experienced and skilled therapists. Their expertise ensures that attendees receive high-quality massages and enjoy a relaxing experience. Professionalism is key, as it contributes to the overall atmosphere of your event.

Reputation and reviews:

Research the reputation of the chair massage service. Check for positive reviews and testimonials from previous clients. A reputable provider will have a track record of delivering exceptional services and satisfying their customers.

Availability and flexibility:

Consider the availability and flexibility of the chair massage service. Can they accommodate your event schedule and provide services at your desired location? Choose a provider that can cater to your specific needs and offer convenient on-site services.

Pricing and packages:

While pricing is an essential consideration, it's important to weigh it against the value and quality of service provided. Compare different pricing options and packages to find the best fit for your event budget. Remember, the investment in chair massage services can significantly enhance the overall experience for your attendees.
With all these factors to consider, you might find yourself overwhelmed by the research and decision-making process. 
Here at Blys, we're here to take the hassle out of choosing chair massage services for your event. With our hand-picked team of massage therapists, affordable options, and seamless bookings, getting the best corporate massage in Australia for your next event has never been easier.
How Chair Massage For Events Works
Arranging chair massage services for your event doesn't have to be complicated. With Blys, we handle all the logistics, ensuring a seamless experience for both you and your attendees.
Setup and Space Requirements:

Our experienced therapists take care of setting up the massage chairs, so all you need to provide is the space. 

Timing Considerations:

Communicate with your therapist to determine the optimal timing for the chair massage sessions. 

Additional Equipment and Personnel:

You don't need to worry about coordinating additional personnel or equipment— our therapists handle everything to ensure a successful implementation.
Find The Perfect Chair Massage Provider For Your Event
It's important to work with experienced and qualified professionals for any corporate events you're running. That's why we carefully select and screen our therapists to ensure they meet our high standards. Blys reviews their experience, qualifications, and client feedback to ensure they are skilled and capable of delivering exceptional chair massage services.
When reaching out to potential chair massage providers, it's essential to ask the right questions to ensure they can meet your event's specific needs. 
With Blys, you don't need to worry about this step. Reach out to our team and we'll provide you with access to a network of highly skilled therapists who specialise in chair massage for events.
Customising Chair Massage Services For Your Event's Needs
Chair massage services offer a high level of flexibility and can be customised to meet the specific needs of your event. At Blys, we understand the importance of tailoring our services to align with your event goals and attendee preferences, ensuring a personalised and memorable experience.
To deliver a customised chair massage experience, have an open chat with your chosen massage provider. Share your event goals, whether it's to promote relaxation, reduce stress, or enhance overall well-being.
We also go beyond the chair massage services, you can add additional options like aromatherapy or soft background music, helping to create a serene atmosphere during the massage sessions. 
Simply get in touch with us, and let's build your dream event experience together. 
Get Started On Implementing Chair Massages At Work
Interested in booking a chair massage for your next corporate event? Learn more about our corporate massage services and give your event attendees the gift of wellness. 
Let Blys handle the logistics, so you can get back to providing a seamless, memorable experience for your guests.