Are you thinking about booking a massage during pregnancy? First of all, congratulations are in order. Bringing new life into the world is a beautiful time, with plenty of exciting milestones ahead. 
But if you're navigating aches and pains, struggling to get a good night's sleep or feeling more anxious than usual, you might need a helping hand to feel your best during your pregnancy.
That's where a pregnancy massage can come in. These specialised, tailored treatments give your body a chance to relax, unwind and prepare for this next exciting chapter. But if you're wondering about what techniques and treatments are safe during pregnancy, we're here to set the record straight.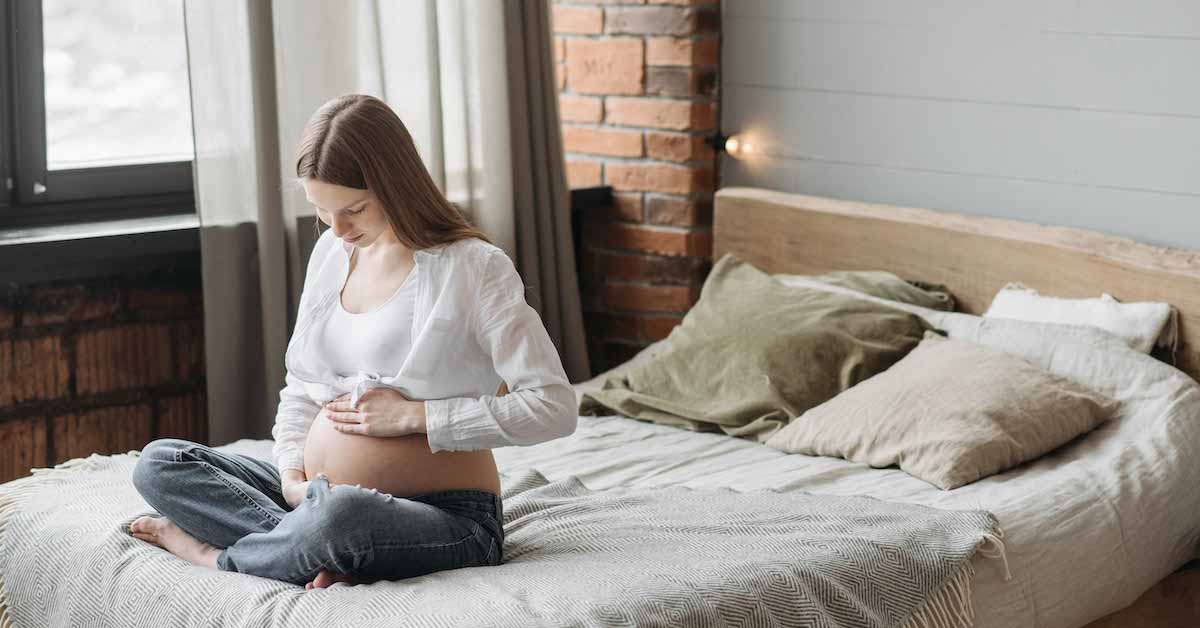 What is a pregnancy massage?
A pregnancy massage is a special form of massage therapy for women in their second and third trimesters of pregnancy. Pregnancy massages can be beneficial for women as they experience changes to the body during pregnancy, helping to relieve tension and discomfort in the shoulders, neck, and back.
A mobile pregnancy massage is one of the most convenient ways to bring the benefits of massage to your own home. By booking a qualified mobile massage therapist, you'll be able to skip the queues, travel time and hassle of visiting a day spa and treat yourself to a relaxing massage treatment in the comfort of your own surroundings.
When can I get a pregnancy massage?
Typically, pregnancy massages are recommended for women in their second and third trimesters. 
Here at Blys, our massage therapists don't provide pregnancy massages to women in their first trimester. This is because this is a particularly sensitive developmental stage for your child.
Once you reach 13 weeks, it's usually fine to start incorporating pregnancy massage into your routine. However, everybody and every pregnancy are different, so it's still important to consult your doctor or health professional before booking your first pregnancy massage.
Is massage safe during pregnancy? 
In short, absolutely. Once you reach your second or third trimester, pregnancy massages can be a helpful way to relieve tension, relax your muscles and give back to your body. 
Of course, you should always consult your doctor before getting any type of massage while pregnant to be extra safe and account for your personal situation. 
Plus, you want to ensure your massage therapist has the correct qualifications and is properly trained so they know which pressure points to avoid and what pregnancy massage techniques to use. 
What will my therapist bring for a pregnancy massage?
The best part of booking a mobile pregnancy massage? Your therapist will bring all the equipment needed to deliver the best experience, including a table, pillows, fresh towels and blankets.
When you're lying on a pregnancy massage table, your massage therapist will use pillows to cushion the body from a side-lying position. 
As Blys therapist Savanna explains:
"I bring four normal pillows; two under the head, one between her knees, and one between her ankles for maximum comfort. Some therapists have long body pillows that they bring. There's no wrong pillow, as long as the mum-to-be is as comfy as possible."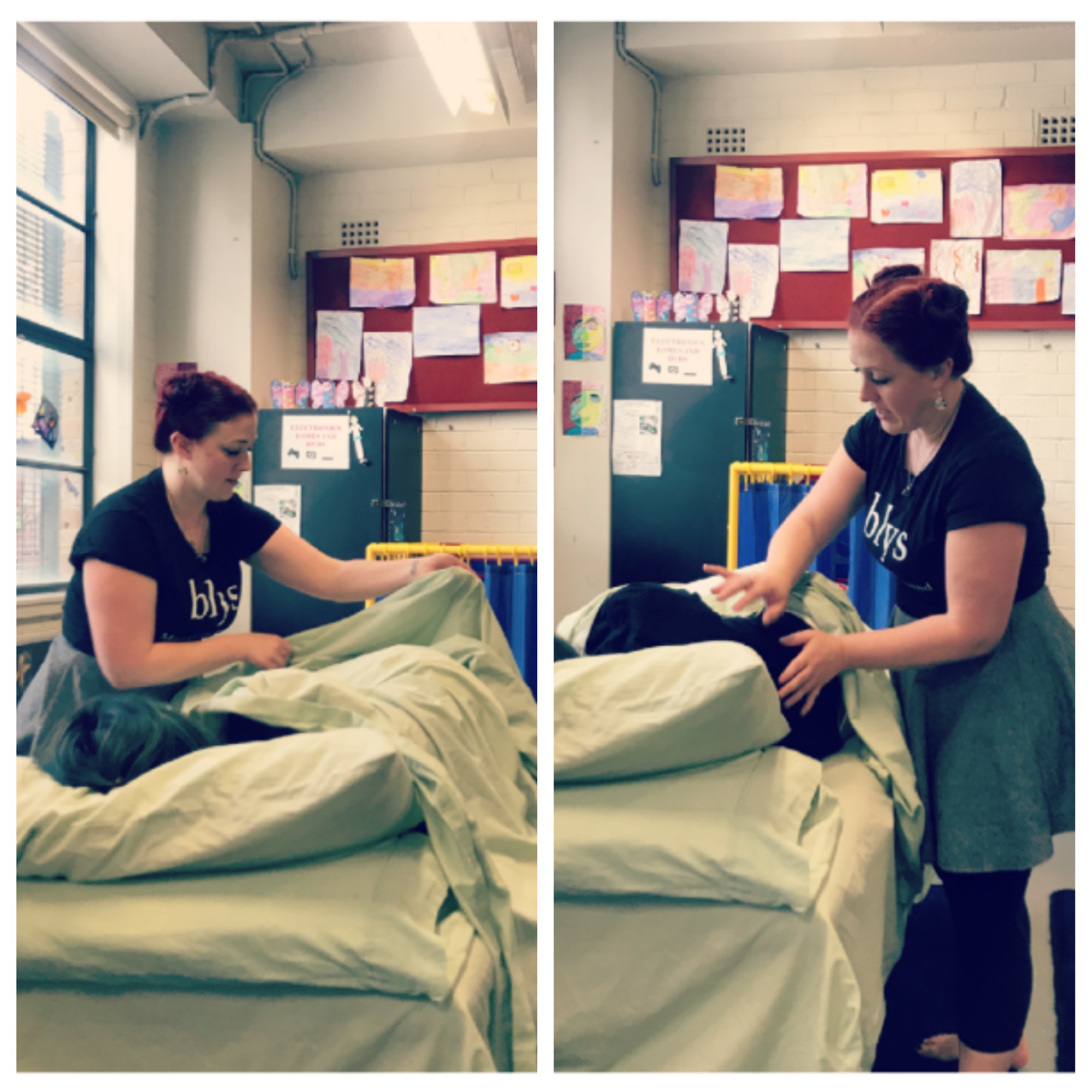 While there are specialised pregnancy massage tables designed to accommodate your bump when lying face-down, it's not an ideal position. Instead, lying sideways ensures that your delicate belly is well-supported throughout the massage without any strain.
What pregnancy massage techniques are used?
Pregnancy massage generally follows Swedish relaxation massage techniques, using long, sweeping strokes to soothe muscles and support the return of blood to the heart, also boosting blood flow to the uterus and placenta. 
Other pregnancy massage techniques draw from remedial or deep tissue massage and shiatsu massage. These are more specialised styles that target stubborn pain, tension and knotted muscles.
What are the main benefits of pregnancy massage?
There are various benefits of pregnancy massage from physical to mental health benefits and even improving the quality of your sleep. Research shows that massage during pregnancy reduces anxiety, improves sleep and mood and decreases back pain amongst those who received a massage twice a week for five weeks. 
Let's take a closer look at some of the benefits of pregnancy massage. 
Alleviates stress on weight-bearing joints

Increases blood circulation

Improves lower and upper back pain and stiffness, tension and knots

Relieves headaches

Improves sciatica (numbness, tingling or weakness of the legs)

Improves edema (abnormal accumulation of fluid in tissues) and joint pain

Decreases heartburn and acid reflux

Decreases constipation

Improves neck, interscapular (between the shoulders), sacroiliac (between the spine and pelvis) and hip pain

Helps relieve stress or anxiety caused by hormone changes

Improves both the quantity and quality of sleep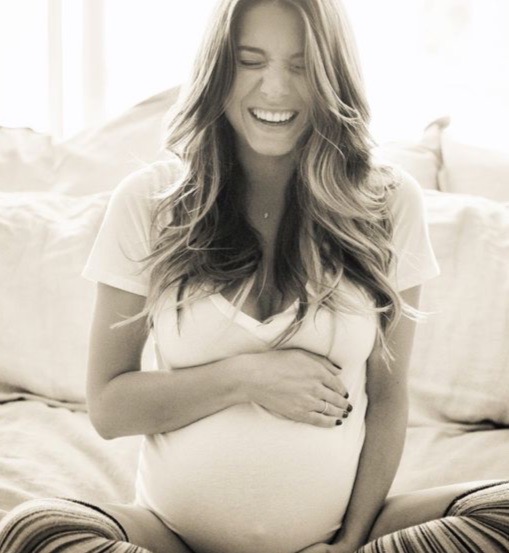 Can I have a back massage in early pregnancy?
Massages can be really beneficial for pregnant women, offering a relaxing and soothing experience, particularly if you're experiencing back pain. 
However, massage therapists and healthcare professionals typically don't recommend getting a massage within the first trimester (the first 12 weeks) due to an increased risk of miscarriage. The first trimester is also a key developmental stage when the baby's major organs are developing. 
Plus, during a massage, while pregnant your body should be positioned differently than if you weren't pregnant. During a massage, you should be lying on your side, not on your stomach which you would typically see during a back massage. 
If you're wanting to get a pregnancy massage for back pain it's always best to check with your doctor first. That way, you can be sure the massage won't worsen your back pain and you're taking a safety-first approach. 
Are foot massages ok during pregnancy? 
Foot massages are a great massage therapy to have during pregnancy, particularly in the third trimester when the feet are likely to be the most swollen and painful. 
However, there are some potential risks so it's important to check with your doctor before getting a foot massage during pregnancy. If you've experienced blood clots in the legs or deep vein thrombosis then it's probably best to stay away from foot massages, unless you have medical clearance from your doctor. 
Are massage chairs safe during pregnancy? 
Massage chairs are generally safe to use during pregnancy. There have been some claims that massage chairs aren't safe to use in pregnancy because of a concern that premature labour can occur as a result of the stimulation to pressure points from the massage chair. 
However, there has been no scientific evidence to suggest that they are unsafe. It's also best to use a massage chair under the supervision of a qualified massage therapist instead of using one yourself or from the nail salon. 
When you book a mobile pregnancy massage with Blys, your massage therapist can bring a massage chair along with them to your appointment so you're being supervised by a trained professional. 
Are massage guns safe for pregnancy? 
If you're experiencing back pain, massage guns can provide relief from pain and tension. However, it's hard to get the pressure and positioning right when using a massage gun, which poses a stack of potential health risks during pregnancy. 
To be extra safe during pregnancy, it's best to skip the massage gun and book a mobile pregnancy massage with a qualified provider in your local area. That way, you can relax knowing that a properly trained professional is taking care of your needs and avoiding areas that can cause harm or discomfort. 
Can pregnancy massage induce labour?  
There is no evidence that a massage during pregnancy can induce labour. However, some massage techniques focus on areas of the body that can overstimulate certain pressure points. 
That's why pregnancy massage techniques avoid certain areas of the body and use specialised strokes to ensure your pregnancy massage is completely safe. 
What are other mums saying?
The greatest testament to the value of a good pregnancy massage comes from other mums-to-be. We have handpicked a couple of our favourite reviews from our website and Facebook page!
"Loved every minute of my pregnancy massage at home. The therapist really worked my problem areas and did everything to make me comfortable and relaxed. Will definitely use this amazing service again."

Bee

"Kim was absolutely wonderful. I had an hour pregnancy massage and felt like I was floating on a cloud!!! Will definitely be rebooking."

Debs

"I received a massage yesterday with Tulia from Blys! I am 9 months pregnant and found the massage to be amaaaazing! It's hard to get comfortable at the best of times but I truly relaxed for the entire massage! It was a lovely firm pregnancy massage and I'll be booking again this week. That was my third Blys massage and I cannot fault each one I have received. Thank you Blys!"

Abbie
"Loved every minute of my pregnancy massage. The therapist was professional, friendly and did everything to make me comfortable and relaxed. She really worked my problem areas and relieved a lot of tension I had. Can not recommend this amazing service enough and I'll definitely be returning for future services . Thanks again!"

Birce

"The name really says it all! Being in my second trimester of pregnancy, I was desperate for a massage to release some aches and pains. Booked online and Federico came same day. Federico was incredibly professional and the massage was superb. Without a doubt I will be booking again!"

Kelli

"Great experience! I was desperate for a massage on a public holiday, and with most places closed, Blys was able to deliver and be at my home within a few hours notice. My massage therapist was very lovely and professional. Being pregnant as well, she came with all the pillows and support to ensure I was very comfortable. Highly recommend the service."

Dannie
How to book your pregnancy massage
Ultimately, pregnancy massages are safe in the second and third trimesters and offer a stack of benefits for expecting mums. 
If you're experiencing aches and pains during pregnancy, a mobile pregnancy massage with a qualified Blys massage therapist brings the benefits of these treatments into the comfort of your own home so you don't have to worry about travelling, getting stuck in waiting rooms and being on your feet for too long.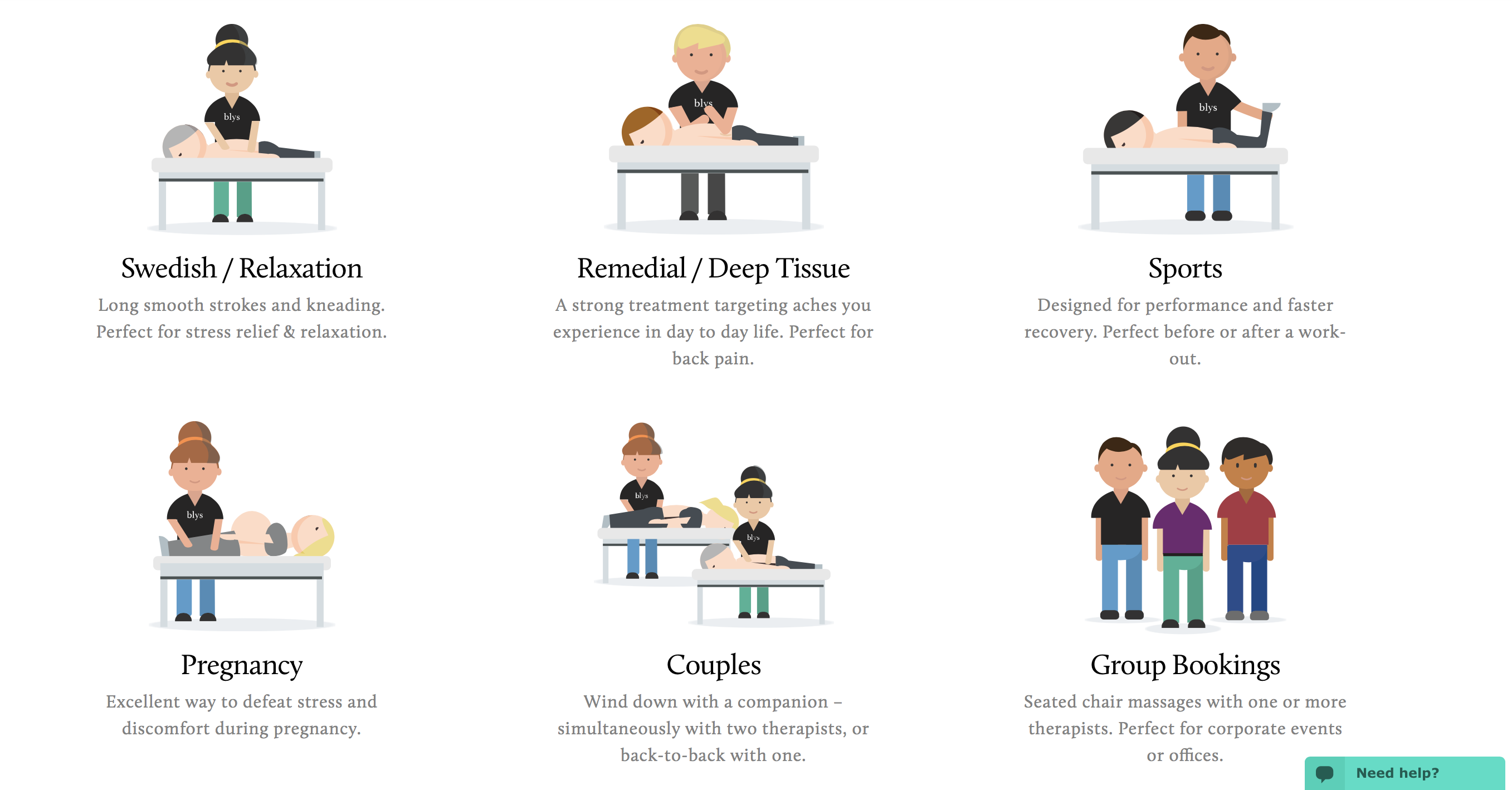 Ready to enjoy the benefits of an at-home, mobile pregnancy massage?
Book an at-home massage treatment and let Blys come to you.
Book Now