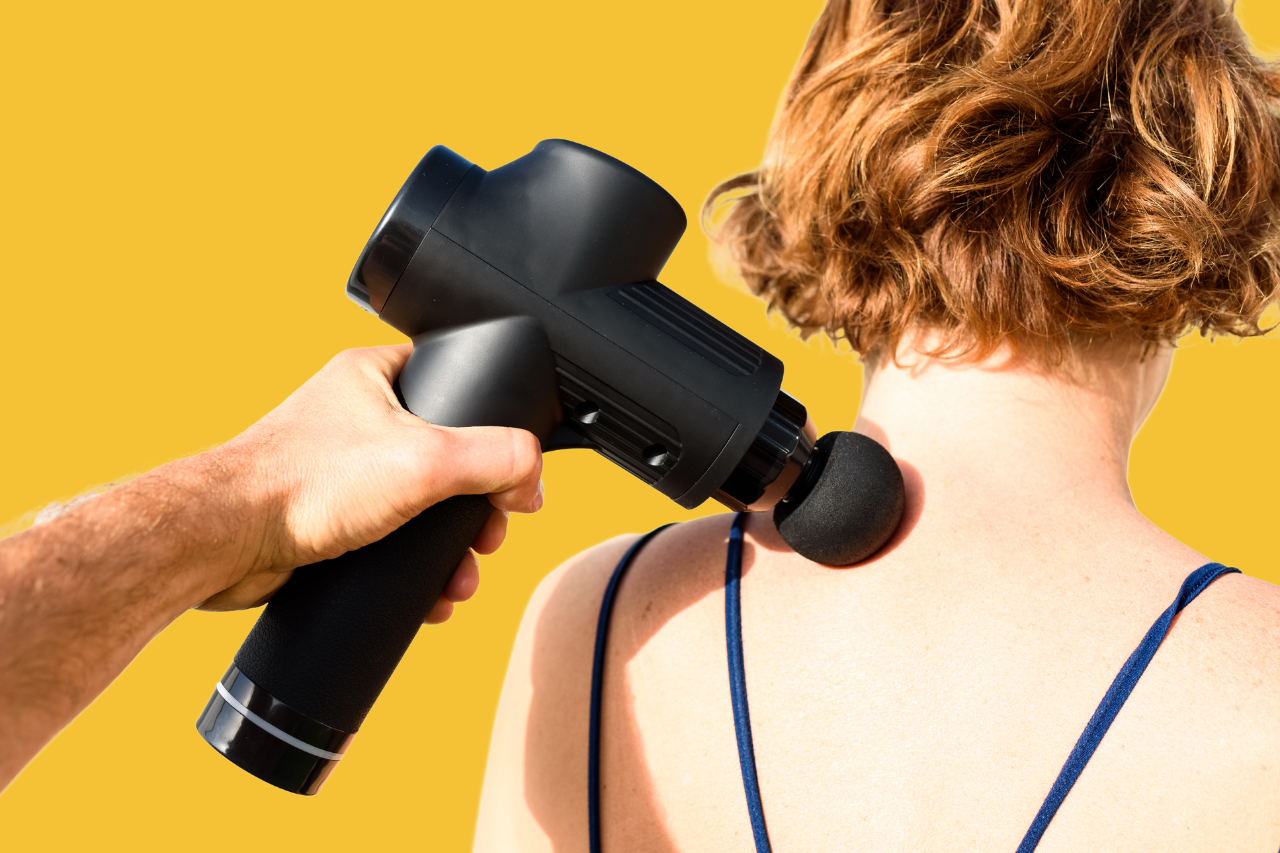 Have you found yourself watching another massage gun review on social media? These DIY massage tools claim to be a quick, on-demand fix to visiting a day spa or booking a professional massage.
If you've thought about investing in a massage gun or wondered if they're worth the hype (and how they stack up to the real thing), you've come to the right place. We're here to uncover everything you need to know about all things massage guns.
Do massage guns actually work?  
Before we bust the myths around massage guns, let's run you through what a massage gun is and how massage guns work. 
Massage guns are hand-held tools used for percussive or vibration therapy. They work by applying pressure to muscles to aid in soreness, stiffness, posture-related pain and even relieve stress. 
Although massage guns can be used by anyone, athletes regularly use these tools to reduce post-workout soreness and support a speedy recovery. You might have even spotted sporting superstars such as Cristiano Ronaldo and Naomi Osaka endorsing their favourite massage guns on social media.
So, what's all the fuss about? Massage guns claim to improve blood flow which helps your muscles prepare for exercise, support recovery and even improve flexibility.  However, there isn't any large-scale data or research out there to confirm whether or not massage guns actually work. 
To date, small-scale studies of just 16 participants and 40 participants found that percussive therapy (a.k.a using a massage gun) can decrease stiffness in the calf muscles and improve a user's range of motion. But, with such limited sample sizes, it's hard to definitively say whether massage guns actually provide long-lasting results. 
What are the benefits of using a massage gun? 
While the jury is still out on the holistic health benefits of massage guns, there is some evidence that these tools can reduce things like the delayed onset of muscle soreness and reduce pain after working out. 
Let's run through some of the benefits of using massage guns:
Offers stress relief, when used correctly.

Increases blood flow and lymphatic circulation. 

Reduces muscle soreness after intense workouts.

Supports post-injury care and recovery.
While massage guns can be a quick fix and handy addition to your recovery routine, they'll never be able to replace the magic of an experienced massage therapist. 
The specialised and targeted support and relaxation techniques used by a massage therapist can't be packaged up into a DIY tool, which is why booking in for a regular massage with a qualified professional who will tailor the massage to what your body needs is key to keeping your body feeling its best. 
The other reason why many people reach for a massage gun is the convenience factor. Typically, it can be hard to get a same-day booking for a massage at your local day spa. If your stiff neck or tight lower back can't wait, grabbing a DIY massage gun could seem like your only option. 
But if you're looking to score a massage anywhere anytime, it's time to check out Blys. Jump onto the app, book an experienced massage therapist near you and score a relaxing massage delivered to your door. Our in-home massage therapists offer bookings Australia-wide, with sessions available from 6 am to 11 pm 7 days a week.
What are the cons of using a massage gun?  
Now that we've covered some of the potential benefits of using massage guns, let's run through some of the cons of a massage gun, including:
Incorrect use:

when using a massage gun, it's important to know exactly how to use it. People with chronic pain or recurring injuries should be extra careful when using massage guns, as the deep pressure can cause

pain flare-ups

, running the risk of making muscle tension even worse. If you're unsure, it's better to ask a professional massage therapist to perform percussive therapy for you to avoid any injuries and get the results you're after. 

Risking injury or exacerbating chronic conditions:

unlike a professional therapist, a massage gun won't run you through an initial consultation to check in on any injuries or aches you're working with. If too much pressure is applied to sensitive areas of your body, you can risk increasing swelling or causing further damage with a massage gun.

High price point: massage guns are definitely an investment, which high-quality tools setting you back anywhere from $500 to $1,000. With so much still unknown about the benefits of massage guns, putting your money towards a proven treatment (like a professional massage) will not only relieve those aching muscles but give you a chance to relax and unwind, too.
Can massage guns actually replace professional massages? 
Although massage guns can provide short-term pain relief and aid in delayed onset muscle soreness, there's nothing quite like a massage from a qualified and experienced professional. After all, massages are one of the oldest healing traditions for a reason.  
Massage guns are limited in what therapeutic benefits they provide. In comparison, professional massages target different areas of the body and use tailored techniques to target the specific areas of discomfort or tension you're navigating.  
As massage provider on the Blys platform, Vicky Harper explains, "Massage guns are great for areas that can be reached easily and for quick relief. But no battery device will ever replace the healing effects of the human touch!"
Using a massage gun in between sessions with a massage therapist can help you reduce soreness, and pain and provide relief from muscle tension. But, if you're an athlete, gym junkie or a busy professional hunched over a desk, the evidence suggests massage guns aren't really worth all the hype. 
There are stacks of physical and psychological benefits of professional massages that can't be replaced by a massage gun or other at-home wellness products. Massage therapists have the expertise to tailor the pressure, movements and techniques they use to suit your unique needs. 
Plus, a professional massage places your body into a deep state of relaxation which is key to reducing your stress levels and supporting faster recovery. 
You're also less likely to injure yourself or exacerbate any chronic pain by seeking out treatment from a professional who has the right qualifications and experience, too.
How to get the most out of your next massage 
If you're looking to book  a professional massage treatment, or are thinking about using a massage gun in between treatments, here are some handy tips to follow.
Massage gun tips 
Looking for some quick relief between sessions? When using massage guns there are a few things you should be on the lookout for to avoid causing any potential injuries. 
Getting the right intensity:

Typically, you should start with the lowest intensity to get a feel of your tolerance level. 

Using a massage gun for the right time:

 

Muscle activation:

30 seconds before a workout.

Muscle reactivation:

15 seconds mid-workout.

Recovery and pain relief:

1-2 minutes post-workout. This pattern can be repeated throughout the day with rest times in between. 
Don't overdo it: using a massage gun on a particular area can cause bruising, and soreness and have the opposite effect of what you're looking for. If you overdo it, you can increase inflammation and actually tighten the muscles instead of relaxing them.
How to optimise your next professional massage
When it comes to getting a professional massage, whether it's remedial, relaxation or any type of specialty massage you should always have a clear line of communication with your massage therapist so you can get the most out of it for your particular needs.  
Understand what you want out of your massage:

Are you experiencing pain in certain areas of your body that a massage can relieve or are you looking for a stress-relieving massage?

Communicate with your massage therapist:

communicating with your massage therapist before, during and after your massage is important to get the most out of it. If you're feeling any pain or discomfort during your massage, speak up about it. 

Give yourself some time after your massage:

schedule some quiet time post-massage to relax and absorb the effects of the massage. 
If you're looking for long-term healing and therapeutic benefits, professional massage treatments are your best bet. But, if you're someone who hits the gym often, massage guns can provide an added bonus in between your professional massage sessions. 
Ready to enjoy the long-lasting benefits of a professional massage?
Book your first in-home treatment and use the code NEW1 at checkout for $10 off
Book now