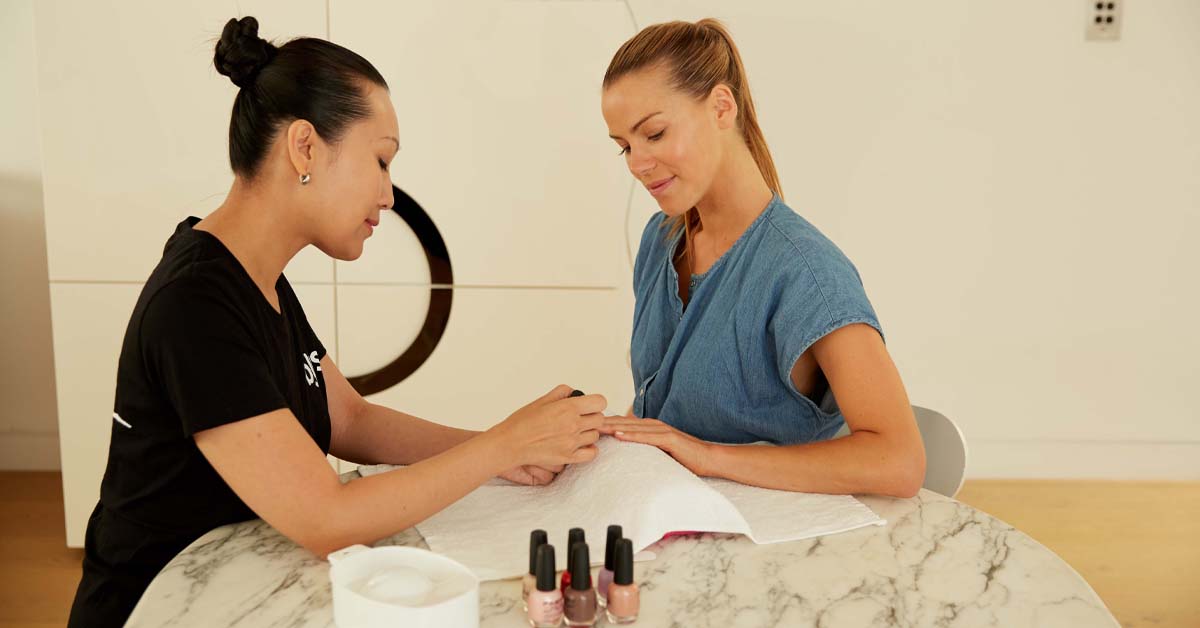 Let's be honest, there's really no better feeling than a fresh manicure – it feels like you can take on the world. 
But, there are also a bunch of different types of manicures out there which can make picking the right treatment pretty confusing. From shellac to gel, along with SNS and acrylic nails, not all manicure types are created equal. 
In fact, all these manicure types use different methods and have come with different pros and cons. If you've been wondering what the differences between these nail types like shellac nails vs acrylic nails, or shellac nails vs gel nails we've got the answers to your most burning questions. 
What is the difference between acrylic and gel nails?
The difference between acrylic and gel nails is the products used to create the final nail look and how these products are applied. Gel nails are made from liquid resin and are applied in three layers: the base, builder and top coat. Each layer is placed under a UV light for a few minutes to seal the product into place. 
On the other hand, acrylic nails are made from a combination of liquid monomer and powder polymer and are typically placed over the fingernails to give the nails more length. Gel nails also give more of a natural, glossy appearance whereas acrylic nails offer a more dramatic, high-impact look. 
What is the difference between gel nails and shellac nails?
Most people tend to think shellac and gel nails are the same things. Truth be told, gel nails and shellac nails are pretty similar and achieve the same results, which is why shellac manicures are priced very similarly to gel nails. 
The biggest difference is that shellac nail polish uses a semi-permanent polish whereas gel nails use a semi-permanent colour on your nails. 
Plus, there are more nail colour options to choose from with gel nails than shellac nails. Shellac nails are also thinner so they tend to show signs of wear and tear faster than gel nails, breaking down in roughly two to three weeks. 
What is the difference between shellac and SNS nails? 
Shellac nails vs SNS nails: what's really the difference between these two manicure types? 
The main difference between these manicure types is the method of application. Shellac nails (and gel nails too) are painted on and put under a UV light. SNS nails are dipped in powder instead of being painted. Each nail is dipped into the powder one by one and the powder sticks to your nails. 
Since SNS nails are dipped in powder, they tend to create a thicker look. Plus, SNS nails instantly dry from the powder so there's no need to put your nails under a UV light as you need with shellac nails and gel nails. 
Which is kinder to nails: gel or shellac? 
If you're wondering which type of manicure is kinder to your nails, there really isn't that much difference between the two.
In general, gel nails are harder to remove, involving soaking your nails with acetone-soaked cotton balls and wrapping them in aluminium foil and scraping and filing down which can be rough for your nails. 
Shellac nails are easier to take off but involve the same process as gel nails (even if there's less soaking and less scraping involved). A trained nail technician will be able to remove both gel and shellac nails without damaging your nails and you definitely don't want to be doing it yourself because that's the easiest way to damage your nails. 
Does water damage gel nails? 
If you decide to go with gel nails, hot water is your enemy. That's because soaking your nails in hot water helps to remove them. If you want your gel nails to last longer avoid taking hot baths and soaking your nails in hot water. Plus steer clear of steamy showers and use gloves when washing the dishes. 
What is a full-set manicure at a nail salon?  
A full-set nail manicure is essentially applying acrylic nails. This is done by applying solar powder and liquid on top of your natural nails to extend the length of your nails. 
On the other hand, a full manicure deals with your real nails. This involves removing nail polish, shaping and trimming your nails, removing dead skin around your nails and applying nail polish, whether that's shellac or gel polish. 
How does a salon remove acrylic nails? 
Salons typically use a combination of filing the acrylic nails down and soaking them in acetone to remove acrylic nails. The process looks like this: your technician will soak cotton buds in acetone and place them on your nails with aluminium foil wrapped over the top. The entire process can take about 30 to 45 minutes. 
Acrylic nails have to be removed by a professional nail technician to ensure you don't damage your nails as pulling them off yourself can strip away layers of keratin in your nails. 
How often should you take a break from a shellac manicure? 
If you're like us, you probably love having freshly manicured nails. But the good news is that if you're booking appointments with a trained nail technician, you shouldn't need to take a break either. 
Regular manicures from an experienced nail technician can help to keep your nails clean, tidy and healthy. However, if you do notice skin peeling, brittle nails or dehydrated cuticles, make sure to chat with your technician to figure out the best way to keep your nails strong and healthy.
How to tell if a gel manicure technician is good or not? 
Finding a good nail technician and nail salon can be challenging and require some trial and error. If you're trying to figure out whether a nail technician is good or not, here are a couple of important things to look out for. 
The main thing you want to look out for is whether or not they are using clean, disinfected tools. You definitely don't want your nail technician to be re-using tools on multiple customers. You can ask them whether they use an autoclave sterilisation device which is really effective in disinfecting nail equipment.  
You'll also want to make sure that your nail technician has all the right tools and give you a range of colour options for your manicure or pedicure. 
Plus, your nail technician should be experienced and knowledgeable and have worked in a salon or spa before. If you're looking to get shellac nails at home (or any type of manicure), providers on the Blys platform have been screened to ensure they are qualified, professional and are also fully insured. 
If you're looking for shellac nails near me, Blys providers come straight to your door, operating in most major cities across the United Kingdom so you don't even have to take time out of your day trying to find a nail salon that can fit you in.