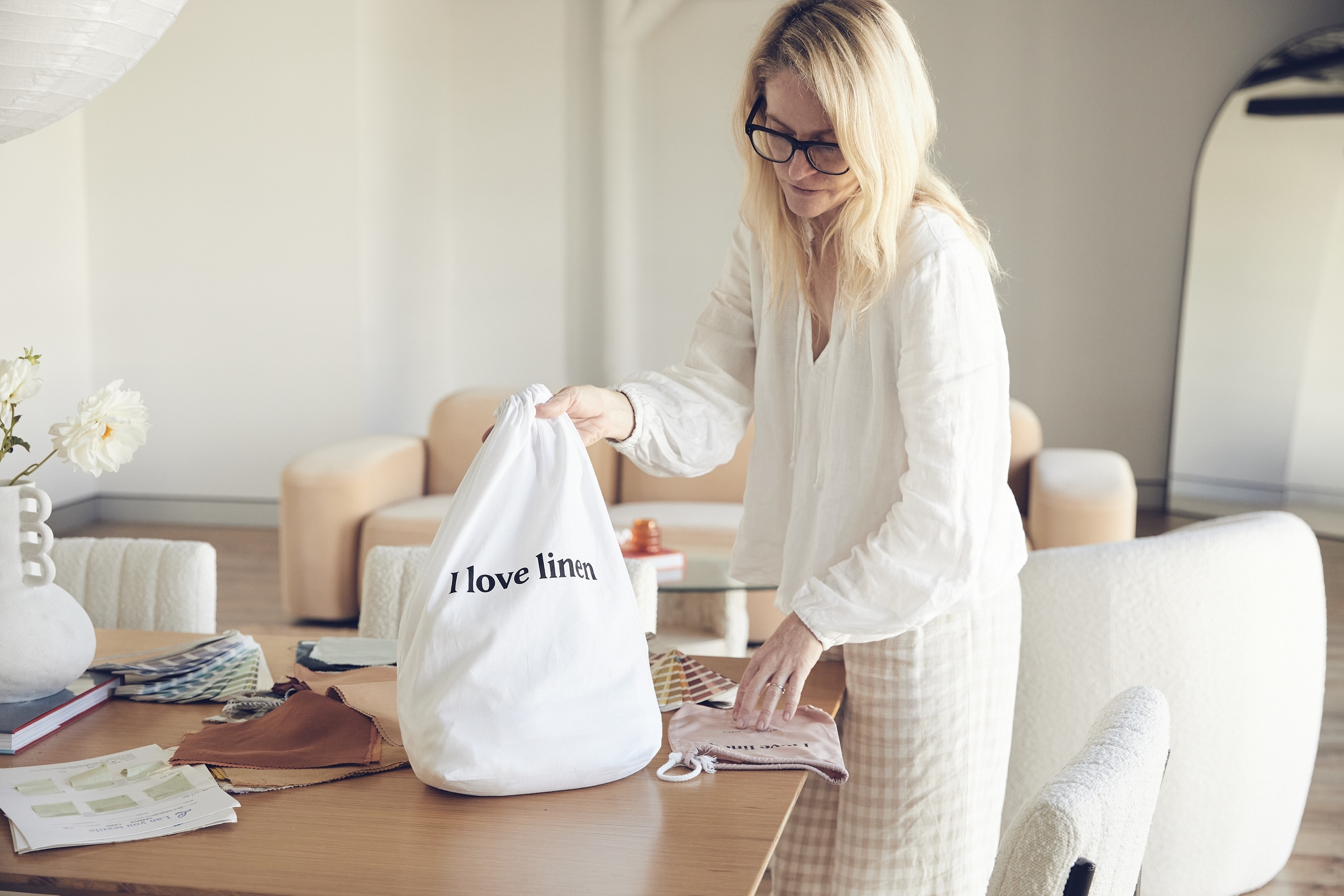 Everyone is searching for a better night's sleep. And it's no surprise because deep rest is one of the most important factors to our productivity, mood, and overall wellbeing. 
But getting enough quality shut-eye isn't as easy as jumping into bed.. With hours spent staring at our screens, often late into the night, we can struggle to get a full eight hours of rest in. The good news is that fixing our sleep schedule is easier than you might think. 
So, we've called in the experts. We've chatted with I Love Linen's Founder Lauren Roe, the mastermind behind one of Australia's favourite online destinations for all things bedding, linen and home. 
Keep reading to discover Lauren's top tips for creating a bedroom you can't wait to go to sleep in and her self-care rituals for getting a good night's sleep. 
Tip 1. Pick the right kind of bedding to support deep restful sleep
First up, Lauren explains the role our sheets and bedding play in helping us fall asleep and stay asleep. 
"My top tip for getting a better night's sleep is a combination of choosing the best quality sheets and bedding. I always recommend natural fabrics as they breathe the best against your skin. 
The best choices would be our signature French linen and our lusciously soft bamboo. Then you need to ensure that your pillows, quilts and mattress toppers (I highly recommend!) are of the highest quality. 
If you're going to invest in great quality sheets, then make sure your other bedding elements are equally as good. At I Love Linen, we have a range of hotel-style bedding that is super soft and cosy, and when combined with linen sheets, the experience is like sleeping in a cloud!"
Tip 2. Stick to a calming colour scheme in your bedroom
Next, it's time to think about the kind of colour scheme you're using in your sleep space, as the shades you pick have a big impact on your mood and mindset.
"From a colour perspective, if you want a calm space then always focus on serene tones that are rooted in nature.
Shades like Natural, White, and Sage Green are good picks as they all create a very calm vibe. We find you can mix and match these shades together and create an absolute sanctuary."
Add a collection of air purifying plants and you're one step closer to snooze town. 
Tip 3. Ditch the bedroom clutter and lean into biophilic design
There's nothing relaxing about trying to fall asleep in a room with piles of clothes or washing that needs to be done. So, Lauren is quick to advise us to ditch the bedroom clutter to encourage deep, restful sleep.
"Try and keep your bedside table decluttered. You only want to have objects that give purpose to keeping you calm, such as a candle, your favourite book, and some fresh flowers. 
Ensure you don't over clutter the bedroom with furniture. The more simple the space, the calmer it will feel. Bedside tables in natural tones and made of wood add a touch of nature into your design scheme."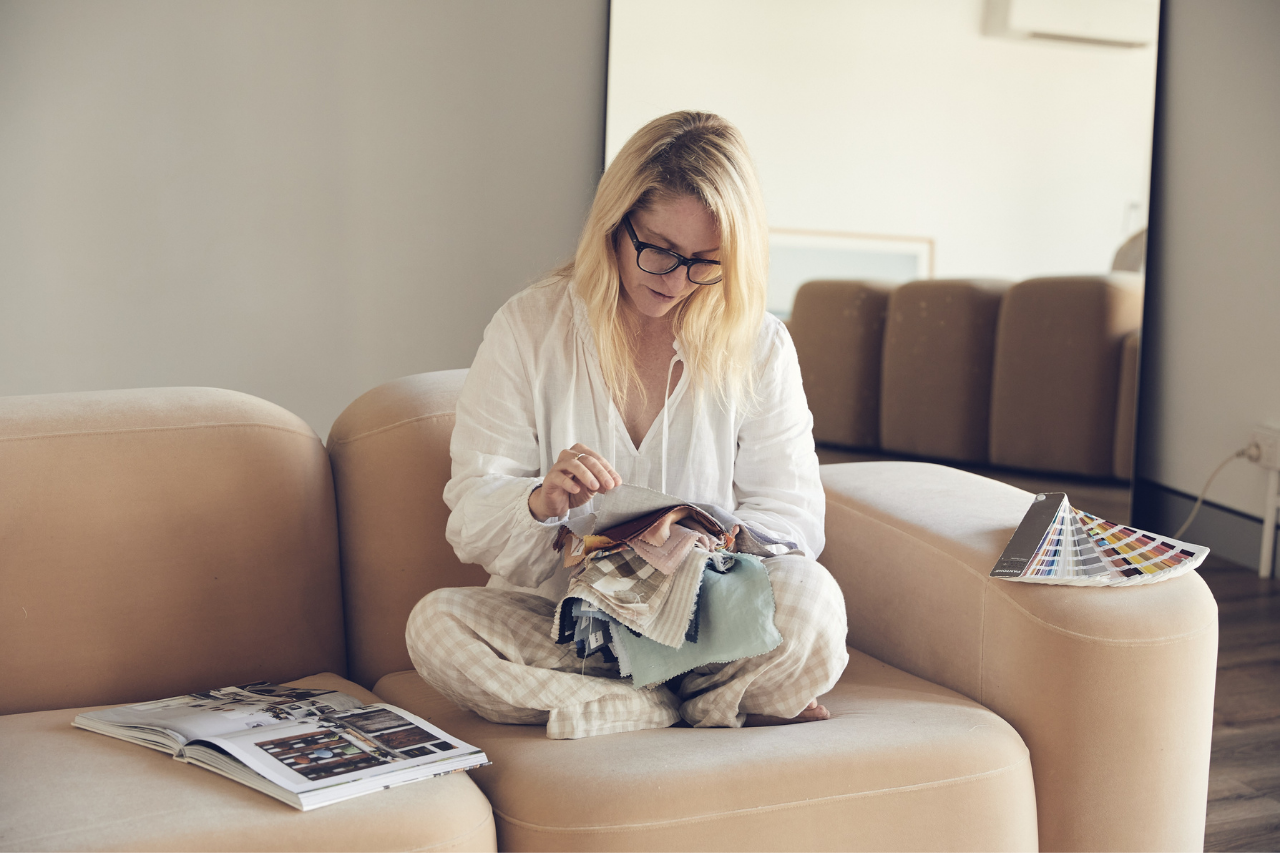 Tip 4. Curate an indulgent nighttime routine 
"I always make sure not to take my mobile phone into my bedroom so I can allow my brain to relax," shares Lauren.
"I cleanse my face, sometimes I apply a nighttime deep enriching face mask and I try and read a few pages from whatever book I am reading as it helps to switch my brain's gears and I get so sleepy!"
Tip 5. Harness the power of massage to support a good night's sleep
While creating a calming bedroom sanctuary is essential to getting a good night's sleep, there are some other practical ways that you can slip into a deep restful sleep. 
Did you know that sleeping less than six hours a night is the number one predictor of burnout? That's why investing in calming self-care routines and wellness practices is so important to helping you wake up refreshed and rejuvenated every day. 
In fact, booking an evening at-home massage can be a powerful way to help you relax and unwind and prepare for bed. Research shows that a professional massage can help to reduce our body's production of the stress hormone cortisol and increase the production of serotonin and dopamine (both responsible for supporting sleep and stabilising our mood). 
Plus, if you're navigating any aches, pains or injuries, an in-home massage can help with pain and tension management and relax your muscles to help you fall asleep more easily.
With Blys, you can book an experienced massage therapist to come to your home and help you unwind before bed. Our professional massage therapists can help you enjoy the benefits of massage for sleep, and are available when you need them (with booking available up to 11 pm every night of the week).
Ready to bliss out in the comfort of your own home?
Book an in-home Swedish relaxation massage and get a better night's sleep with the help of Blys.
Book Now