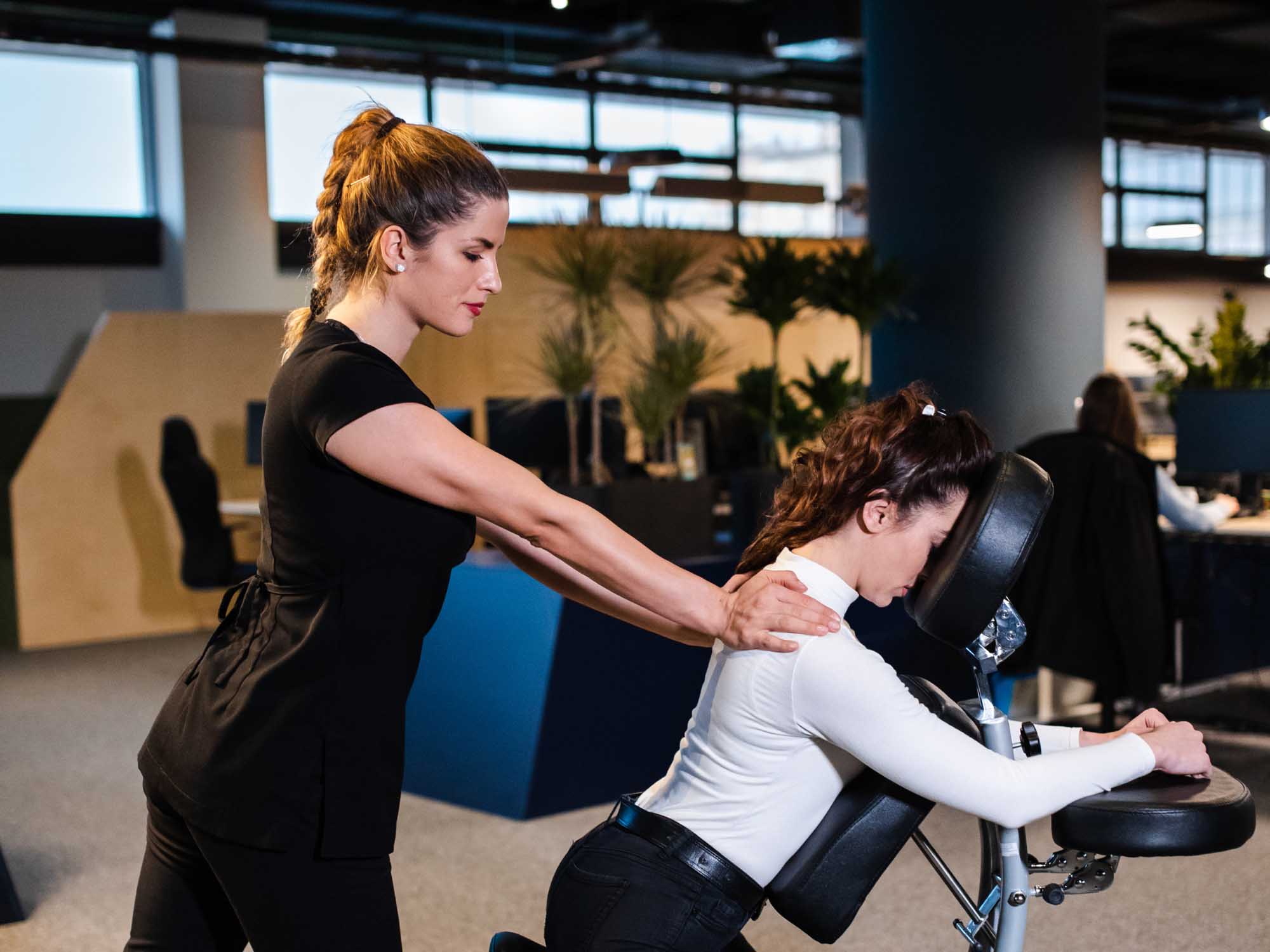 In the fast-paced corporate landscape, where deadlines loom and stress levels run high, finding a balance between work and wellbeing is important. 
That's where corporate massage comes in, giving your people a chance to step away from their inbox and enter a state of deep relaxation (even if only for 15 minutes).
The best part? Corporate mobile massages can be done right in your office, meaning your team can score all the benefits of massage therapy without interrupting their work day. We might be a tad biased, but we believe mobile corporate massages are the most effective, flexible, and convenient way to make wellness a priority at work.  
Still not convinced? Discover the powerful benefits of corporate massage for your team's productivity and wellbeing and learn everything you need to know about booking your next in-office corporate massage session.
What Is Mobile Corporate Massage?
Are you wondering, "what is a corporate massage?" Unlike traditional massage setups, mobile corporate massage removes the need for employees to travel to a day spa or clinic, saving them time and reducing any potential disruptions to their workday. 
The other big difference is that corporate massages aren't just delivered on a table. In fact, many corporates choose to book speedy desk massages (no floor space required!) or even chair massages for their employees, which happens seated and fully clothed.
With mobile corporate massage, highly skilled and qualified massage providers bring their expertise and equipment directly to the workplace.
If you're looking to foster a winning team culture, mobile corporate massages allow you to provide your team with on-site wellness services that enhance relaxation, reduce stress, and promote overall physical and mental wellbeing.
What Are The Benefits Of Mobile Corporate Massage?
If you're considering bringing a mobile massage therapist into the office you might be wondering "What are the benefits of bringing in a mobile corporate massage therapist for my business and my team?" 
Mobile corporate massages offers a wide range of perks, both for employees and employers. By coming directly to your corporate event, office or work retreat, you can save the time and hassle of travelling to these massage sessions. That means more time soaking in the benefits of a corporate massage, and less time commuting, sitting in waiting rooms or paying for transport costs.  
Let's dive into the advantages of incorporating mobile corporate massage into the workplace setting.
Benefits From An Employee's Perspective
From improved mental wellbeing to relief from everyday aches and pains, there are plenty of corporate chair massage benefits, particularly for your team.
Here's how a mobile corporate massage can benefit employees:
Studies

show that a massage at work can

reduce stress

by up to 85%.

Massages promote

relaxation

, which can lead to improved mental wellbeing.

Lowered stress hormones

associated with massage can

improve immune systems

, promoting better overall health. 

Physical comfort can be improved

by

relieving muscle tension

and

alleviating aches

and pains.
Benefits From An Employer's Perspective
Corporate massage doesn't just benefit employees. In fact, there's a whole host of benefits from the employers' perspective too. Here's how a mobile corporate massage can benefit employers:
Studies

show that massage can

increase attention and alertness

, making employees more productive. 

In-office massage can improve your employee health,

reducing the number of sick days taken

, so your team can operate at full capacity more frequently.

Corporate massage can enhance workplace morale and team dynamics,

fostering a positive company culture

.

It demonstrates a commitment to employee wellbeing,

attracting and retaining top talent.
By integrating mobile corporate massage into the workplace, your entire business can experience a range of benefits that positively impact team wellbeing, productivity, and overall job satisfaction.
What Are The Types Of Mobile Corporate Massage Services?
The best mobile corporate massage services can easily be adapted to different workplace settings and employee preferences. No matter your office space, team size or individual needs, your massage provider will be able to tailor an experience to suit your team. 
Let's take a look at the different types of mobile corporate massage services. 
Desk Massage: Enjoy a targeted massage while seated at your desk, without disrobing or using massage tables. It's convenient, private, and doesn't disrupt workflow.
Table Massage: If you have space and prefer longer sessions, table massages offer a comprehensive and truly custom massage experience. Therapists provide the necessary equipment for a relaxing session in a private room, such as a meeting room or wellness space.
Chair Massage: Also known as a seated massage, this treatment uses a special ergonomic massage chair. Your therapist will focus on the back, neck, shoulders, arms, head and hands and work on relieving tension, aches and pains. Chair massages are often used as a corporate event massage as they're designed to be fast, efficient and require minimal space for therapists to work, too.
The good news? Corporate massages are designed to work for you, meaning the experience is totally tailored to your office space, work environment and even your team's unique preferences.
Why Choose Blys For Mobile Corporate Massages?
As a leading provider of mobile corporate massages, Blys makes it easy to give your team a well-earned break during their busy work day.
Our team consists of highly skilled and qualified massage therapists who specialise in mobile massage services. They bring their expertise directly to your workplace, ensuring professional and effective treatments.
In fact, we've already been trusted by hundreds of team members from the likes of Telstra, Uber, WeWork and Westpac (just to name a few).
With Blys, there's no need to worry about providing massage equipment. Our therapists come fully equipped, saving you the hassle and additional costs associated with arranging equipment.
Considering corporate massage events at your workplace? Here's why Blys is the perfect fit.
Benefit 1. Flexible Session Options
At Blys, we understand that every workplace is different. That's why we offer flexible session options to meet your unique needs. 
Whether you need a quick 10-minute chair massage for all staff or a full one-hour table massage for the entire team, we can fully customise our corporate massage services to suit your team. 
Plus, we provide various session durations, such as 2-hour or 4-hour packages, and even options like 15-minute express nail bar services for a truly holistic in-office wellness experience.
Benefit 2. Enhancing Employee Wellness
Office wellness is crucial for fostering a healthy business environment, and Blys can help you achieve just that. 
By incorporating corporate office massage into your workplace, you can improve team morale, wellness, and productivity. Our highly skilled and qualified massage therapists are trained to provide tailored treatments that address the specific concerns and needs of your employees. 
Through the therapeutic benefits of massage, employees can experience reduced stress, improved mental wellbeing, and enhanced physical comfort, leading to increased overall health and wellness. Plus, it's great for boosting focus and productivity. It's the easiest way to foster a high-performing team!
Benefit 3. Seamless Integration Into the Workplace
Our mobile corporate massage services are designed to seamlessly integrate into your workplace, even if you're short on space. 
Our corporate seated massage chairs only require a compact area of 1m x 1.5m, making them suitable for offices of all sizes.
Our experienced therapists are pros at working in small office spaces and ensure a professional setup that minimises disruption to your team's work routines. By bringing the massage experience directly to your workplace, employees can enjoy the relaxation and rejuvenation benefits without the need to travel. 
What Are The Risks Of Ignoring Employee Wellbeing?
The best talent is more discerning than ever when it comes to where they work. Employees want more than just a paycheque: they're looking for companies that are willing to invest in their wellbeing and professional development. 
In a high-performance work environment, your people need the opportunity to relax, unwind and let the stress of the day melt away. But if you're not making wellbeing a priority at work, your team can easily become overwhelmed and overworked.
Here's why neglecting employee wellbeing can present huge risks for your team:
Increased Stress and Burnout:

Ignoring employee wellbeing can lead to heightened stress levels and eventual burnout. Corporate wellness massage acts as an effective stress-relief strategy, promoting relaxation and reducing stress hormones that can contribute to burnout.

Lowered Levels of Productivity:

Constantly feeling stressed and overwhelmed at work can cause employees to become distracted and less productive during their day. If left unchecked for too long, your team can even become burnout and unable to perform their daily tasks effectively. 

Decreased Morale and Engagement:

When employees feel undervalued or unsupported, their morale and engagement levels can plummet, which can lead to higher turnover rates. By offering corporate wellness massages, employers demonstrate a genuine commitment to employee wellbeing, and foster a positive work environment.

Declining Physical Health:

Long hours sitting at a desk combined with the pressures of daily tasks can take a toll on employees' physical health. Onsite corporate massage addresses these concerns by relieving muscle tension, promoting blood circulation, and providing therapeutic benefits that support employees' physical well-being.

Declining Retention Rates

: If employees feel like their health and wellbeing isn't a priority for their employer, dissatisfaction can grow and cause team members to ultimately leave your company. Not only does high staff turnover come with the big expenses to rehire but also it decreases the productivity and output of your entire team.
Looking For Massage Hire For Corporate Events?
Wondering if you can include a corporate workplace massage into your next event? 
Incorporating massage services into corporate events offers a tonne of benefits. It provides attendees with a moment of relaxation and rejuvenation amidst the busy event schedule, allowing them to recharge and maintain focus. 
If you're planning a corporate event, conference, or retreat and seeking massage services to enhance the experience, Blys is here to meet your needs. 
At Blys, we understand that each corporate event is unique. Whether you're hosting a large-scale conference or an intimate retreat, our B2B plan allows us to tailor our services to align with your specific business requirements. 
Our team of skilled and certified massage therapists will create a seamless and professional setup, ensuring that the massage services integrate smoothly into the event without disrupting schedules or logistics.
We bring all the necessary equipment, allowing you to provide a hassle-free and enjoyable experience for your event attendees.
By opting for Blys' mobile corporate massages for your corporate events, you can elevate the event experience, create a memorable and rejuvenating atmosphere, and showcase your commitment to attendee well-being.
Ready to book a corporate massage for you and your team? Learn more about our services or get a free quote from the Blys team.