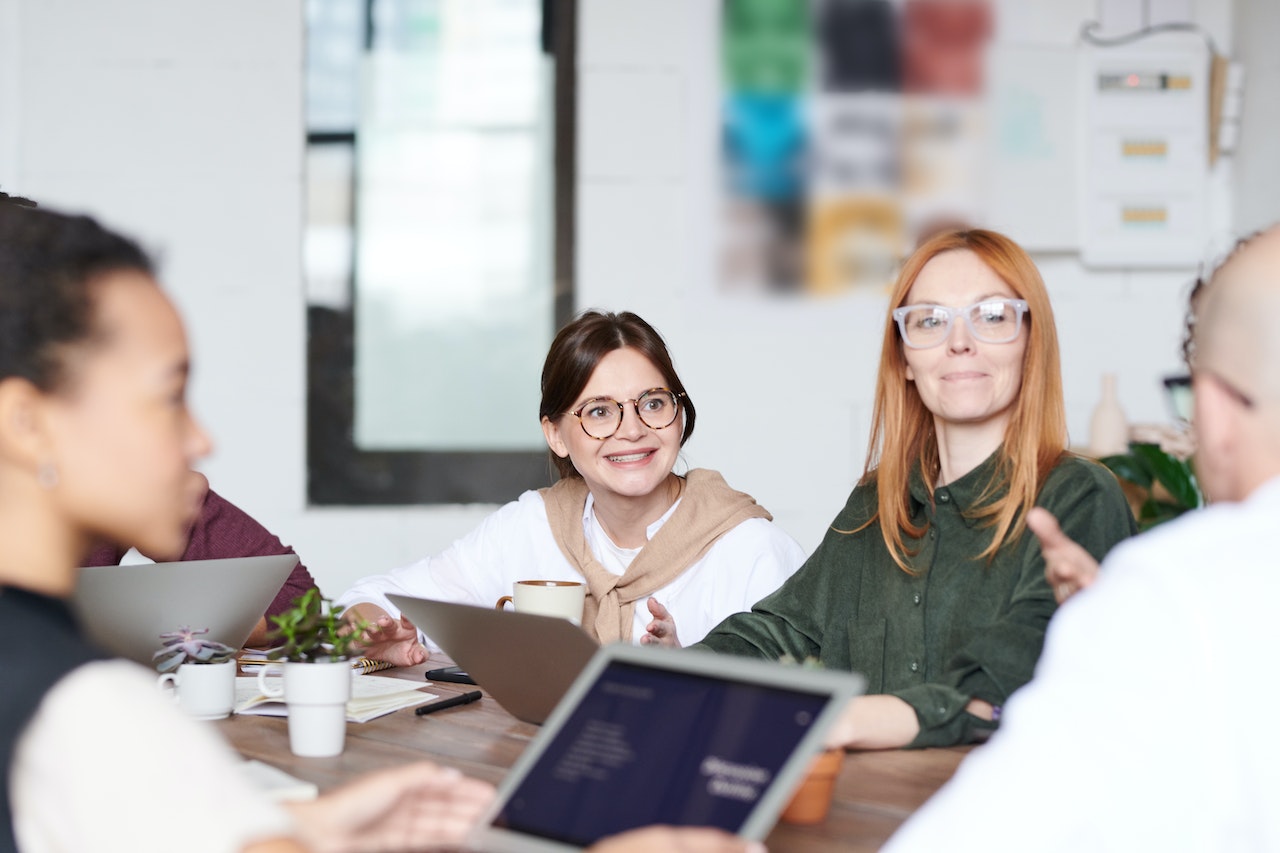 Businesses are constantly finding new ways to innovate their workplace, making themselves more attractive and standing out to potential new employees. 
In a competitive job market, employees are searching for workplaces that make them excited about heading in on a Monday morning (goodbye Sunday scaries!). Workplaces that offer a great work environment through benefits that go above and beyond their salary can do just that. 
We sat down with three of the 2022 Australian Financial Review's (AFR) best places to work winners to uncover how their employee benefit programs (EBPs) make them the most desirable places to work, and how you can convince your boss to invest in an employee wellbeing program too.
What is an Employee Benefits Program (EBP)?
In a candidate's market (a.ka. when job seekers have more options than ever before), employees are increasingly searching for companies that provide them with more than just a paycheck. They want the whole package, wellbeing programs included. 
In 2022, some of the big ticket items for employees are increased flexibility, more working from home days and a workplace culture that offers opportunities to grow and develop professionally. 
One of the best ways to motivate team members and keep them around for the long term is to offer an employee benefits program. 
While the list of employee benefits and perks looks different for each company, it typically involves things like rewards and perks, such as wellness vouchers, free gym members or team retreats. Other highly regarded benefits include flexible work arrangements like shifting to a 4-day work week, taking Friday afternoons off or giving team members a day off on their birthday. 
Why should businesses launch an employee benefits program?
If you've heard about EBPs but aren't exactly sure what the benefits are, we've rounded up our top reasons why businesses should start offering employee benefits to their team.
Employee retention 
Hiring new employees can be pretty pricey, particularly if you have to do it often. The cost to hire new employees has more than doubled in 2021, rising to $23,860 per worker. Plus, the stats show it takes an average of 40 days to find new hires, too. 
But, by having a great EBP you can set your business apart from your competitors, and keep your best staff around for the long term. Why? Because they feel as if you're making an investment in them. 
Benefits and perks are a brilliant way to drive loyalty and will actually save you money in recruitment costs in the long run. 
Increased productivity
A valued and healthy workforce translates to a productive and efficient team. Offering employee wellness and self-care or even health insurance benefits can dramatically increase your team's productivity. 
Reducing the financial burden for employees to take a wellness day can decrease the need to take sick days and even absenteeism in the long term. 
Studies have also shown that EBPs increase four key performance indicators including effort, commitment, work-quality promotion and command of work. So it really is a win-win situation.
Greater job satisfaction and positive work culture
Employees are an organisation's most important asset, so investing in your employees is essential! We also know that job satisfaction and good company culture are key things employees are looking for when searching for and staying at a job. 
A recent study by Glassdoor revealed that 77% of participants said they consider a company's culture before applying. Employees who feel their company offers a positive work culture are likely to be more engaged because they feel supported and valued. 
So, investing in your employees with EBPs is likely to foster a great workplace culture that leaves your employees feeling satisfied, engaged and loyal (all the good stuff!). 
What the top workplaces in Australia have in common
The AFR recently announced its 2022 best places to work list, with 85 finalists making the cut. Based on the AFR's Workplaces of the Future framework, these companies were assessed on ten factors that are essential for employee motivation and engagement. 
We sat down with three of the winners to discuss how they keep innovating their workplace for the better (and making employee benefits programs a key part of their success).
1. Finder
Finder is Australia's most visited comparison site, helping you compare anything from insurance, energy, travel and phone and internet. 
We sat down with Shanyn Payne, Finder's Chief People Officer to discuss how they made AFR's best places to work list. 
"At Finder, one of our core values is 'to empower people', and the benefits we offer our crew reflects this value. We want to empower our crew to be their best selves at work, and outside of the workplace too" Shanyn says. 
Introducing their Life Leave Policy, Shanyn says they provide "five extra paid leave days for crew to use when life happens. From milestone birthdays and cultural celebrations, through to first days of school and adopting a furry family member, we want our crew to be fully present for life's big moments." 
"Last year we also introduced a gender-neutral parental leave policy that offers 20 weeks paid leave to both primary and secondary carers" added Shanyn.
2. Half Dome
Half Dome is no stranger to the AFR best places to work list, being a winner in both 2021 and 2022. Half Dome is an agency that combines marketing and technology to deliver compellingly simple business solutions. 
Felicity Kelly, People and Culture Manager at Half Dome says, "Our benefits were designed to support a working environment that allows the team to thrive and supports wellbeing." 
"Half Dome truly embraces a trusting and flexible work environment, and we do this through providing our team complete choice in when and where they work, as well as offering additional benefits like unlimited annual leave and monetary allowances to support physical and mental health." 
Felicity described another innovative solution that facilitates positive company culture. "Looking out for each other is another priority at Half Dome, which is why all of our team is trained in Mental Health First Aid to know how to support if they notice a teammate is struggling." 
3. Future Super
Future Super is an ethical super fund aiming to invest your money into helping the climate crisis, by opting for zero fossil fuel investments instead focusing on clean energy projects. 
They don't just claim to be an ethical super fund, their workplace culture reflects it. 
Leigh Dunlop, Chief People Officer at Future Super says, "We use business as a force for good – both in terms of how we run our super fund, and how we take care of our employees." 
"As an employer, we offer Menstrual and Menopausal Leave providing employees with additional paid leave to manage the symptoms associated with menstruation and menopause, without needing to dip into their sick leave, because a period is not an illness. The policy has helped remove the stigma around discussing periods and menopause within the workplace." 
"We offer Mental Health Leave designed to encourage employees to take a day for self-care, and is not intended to extend periods of existing leave, we offer six paid Mental Health days a year, in addition to annual leave and sick leave." 
4. Unilever  
Unilever is responsible for some of the brands you know and love including Ben and Jerry's, Dove, Vaseline and Lynx. They've been on the best places to work winners list for two years in a row!
Unilever's U-day gives employees the chance to upskill, reskill and reach their career goals one day per week in an area of their job they feel passionate about. And the benefits have certainly paid off, with U-day improving productivity by 61% in five different departments. 
5. Accenture  
Another two-time winner, Accenture believes that the future workforce should be an equal one. Through inclusive recruitment initiatives, they remove the necessity of tertiary education by creating alternative recruitment patterns for their employees. 
Their programs involve recruiting and upskilling neurodiverse individuals, those returning to the workforce, Aboriginal and Torres Strait Islander people, veterans and underemployed Australians. 
Inclusive recruitment such as the "Return to Work Academy" has seen more than a doubling of applicants from women.
Why self-care is an underrated perk in employee benefits programs
EBPs don't have to be a massive expense. We know budgets can be tight, particularly when we're emerging from a pandemic. 
Self-care is a great, cost-effective way to bring your employee benefits program to life. It doesn't always have to involve a face mask or taking a bath (although sometimes it definitely helps your team unwind). 
Creating a workplace culture that encourages self-care is a valuable way to help employees make wellness a part of their daily routine. In turn, you're promoting good mental and physical well-being and stress management. 
Some great and cost-effective ways to promote employee self-care include: 
Giving your team access to in-home beauty, massage and wellness treatments with

Blys' digital vouchers

.

Offer discounted or free gym memberships to your team to help them break a sweat and stay active.

Start team-wide initiatives, such as cycle to work days or even take half-days on Fridays throughout the summer months.

Introduce extra paid leave options (such as doona days or brain break days) that allow your team to rest and unwind, without worrying about their to-do list.
Now that you're well-versed in the best employee benefits programs, it's time to take action. 
Could your company benefit from adding wellness to your employee perks program? We've got a special offer just for you. Simply refer a business to Blys and we'll load your account with a $50 credit for you to use on your next in-home wellness treatment.