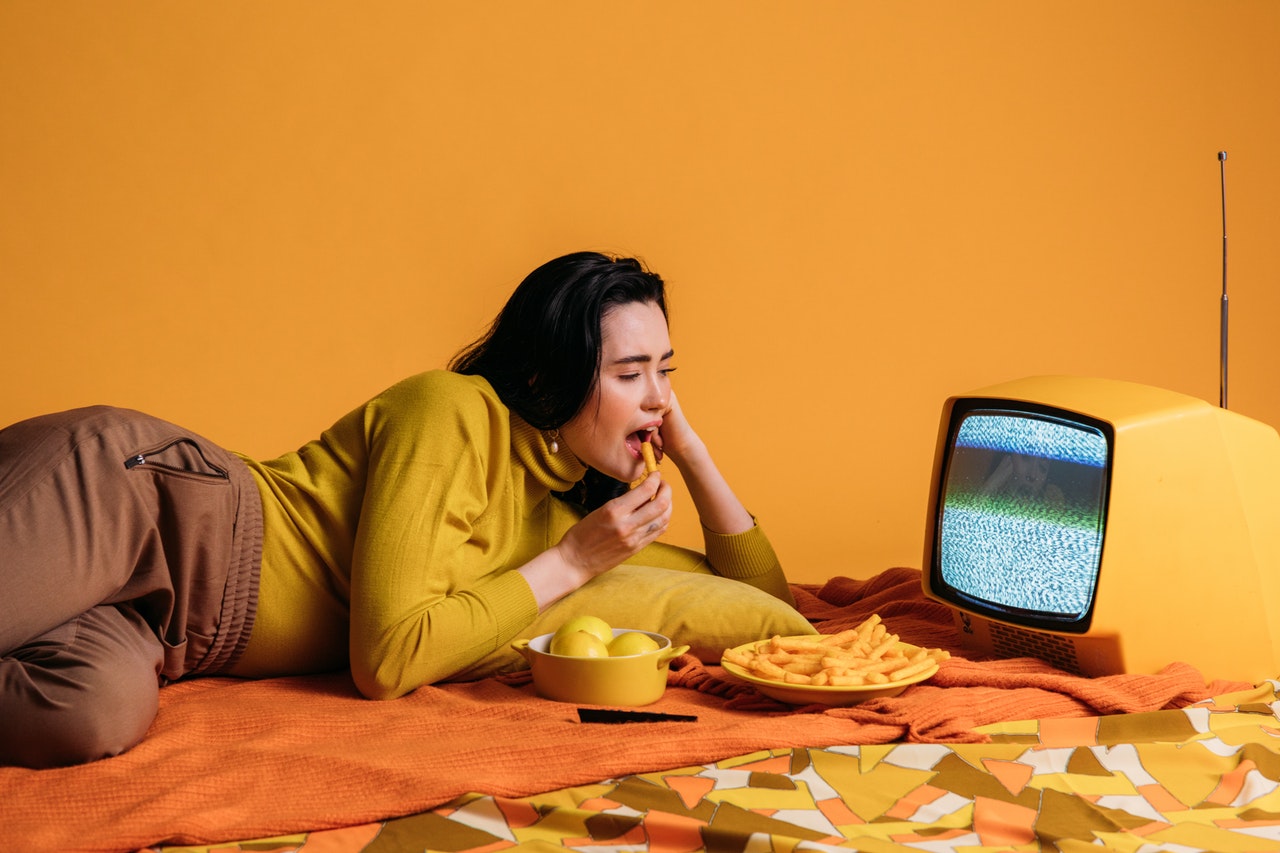 You know a new trend has entered the zeitgeist when it earns a spot in Urban Dictionary. While sources say the term 'goblin mode' has been floating around the internet for the past few years, it's recently surged in popularity in 2022. 
Why? Well, the past few years have been a total whirlwind. Between lockdowns, new COVID variants and the rise of working from home (ahem, the couch), we've all been leaning into a less glamorous version of ourselves. Think: track pants, messy buns, no makeup and another Uber Eats delivery on the way. 
So, where did the goblin mode trend come from, and why has it hit trending status on TikTok? Let's dive into everything you need to know.
What is the 'inner goblin' trend?
The term 'goblin mode' actually sprung to recent popularity off the back of a joke. In case you didn't catch it, let's fill you in. 
It started with a viral tweet featuring a doctored headline about the recent break-up of Julia Fox and Kanye West. The edited headline mentioned the phrase 'goblin mode', and racked up a whopping 116k likes and thousands of retweets. The catch? The headline and quote used were fake. 
But, that didn't stop the goblin trend from taking off across the internet. Google Trends reported a huge spike in searches for the term 'goblin mode' since February 2022, with the hashtag #GoblinMode now generating over 1.3 million views on TikTok. 
If you're familiar with other TikTok trends, you could say that goblin mode is a proud rejection of the #ThatGirl wellness trend, focused on 'clean living', green smoothies, daily workouts and rising early to get the most out of your daily routine. 
On the flip side, goblin mode is all about giving in to our 'worst' habits, like doom-scrolling social media, mindlessly binging Netflix, and making weird 3 am snacks. It's a bit lazy, a bit slobby, and a conscious shift away from the glossy, curated lives we typically share online.
Why we shouldn't shy away from goblin mode
As we enter the third year of the pandemic, the naive days of at-home workouts, Zoom birthdays and baking sourdough are well and truly behind us. We're tired of 'unprecedented times' and unrealistic self-care expectations (like weekly meal prep and getting up for a 5 am journaling session).
The truth is that embracing our inner goblin can be liberating. As long as we're not treating our body like a garbage bin or spiralling into destructive behaviours, goblin mode can be a helpful outlet for stress and fatigue. 
The pressure to continually be working on 'self-improvement' can be bloody exhausting. That's why taking some time out from the real world, prioritising what you need and indulging in things that make you feel good can actually be helpful (not harmful). In many cases, embracing rest and being 'unproductive' is actually one of the most productive things you can do for yourself. 
Want to order takeout every night of the week? Go for it. Fancy a date with the couch rather than a date on Hinge? Do it. Feel like wearing the same jumper five days in a row? No one is stopping you. 
Goblin mode is whatever you want it to be, as long as you're not harming your long-term health in the process.
How to embrace your inner goblin with at-home self-care
Here at Blys, we reckon self-care should happen on your terms. So if you're ready to lean into goblin mode and curl up on your couch, why not bring your self-care treatment to you? 
With Blys, you can book an at-home massage, beauty or wellness treatment and enjoy it from the comfort of your own space (a.k.a. Goblin zone). There are no busy waiting rooms or navigating traffic to get to a salon. 
Instead, you can score top-notch treatments from our qualified providers your way. You can even book a same-day service, with appointments available 7-days from 6 am to 11 pm.
Go on, embrace your inner goblin
 Score self-care your way with an at-home treatment from Blys.
Book Now