There's nothing like hot soup on a cold night.
Don't close the tab just yet! We know soup isn't for everyone. There's a lot of people out there that would rather turn to a roast, a baked dinner, a hearty stew or a classic casserole for the wintertime. They're all good choices.
But soup can be just as exciting, just as flavourful, and just as enjoyable to eat. Thick soup, noodle soup, spicy soup, veggie soup, soup with meat, hot soup, even cold soup – there are endless varieties to choose from. You're bound to find something worthy of those tastebuds.
Soup is for chumps
We beg to differ. Soup has a lot of things going for it, and you can chuck pretty much anything into it. Got leftovers you have lying around that need to be used up? Into the pot! Carrot, celery, parsnip, pumpkin, potato, sweet potato, onions, garlic, broccoli, chicken, beef – everything goes. A recent study found that soup keeps you fuller for longer. Another study revealed that soups have the capacity to reduce levels of obesity and is generally a good-quality food diet.
Certain soups of the world are heralded for their immunity-boosting properties. Traditional chicken soup can help to clear nasal passageways and provides the body with necessary nutrients and proteins. Gazpacho, which is a cold soup, can assist in lowering blood pressure and hypertension in at-risk persons. So yeah – soup is pretty great.
Our favourite soups for winter
Here are our top 5 favourite soup recipes we'd recommend to anyone! We've included one vegetarian and one vegan soup recipe on this list.
Makes 4 serves. Takes about half an hour to cook.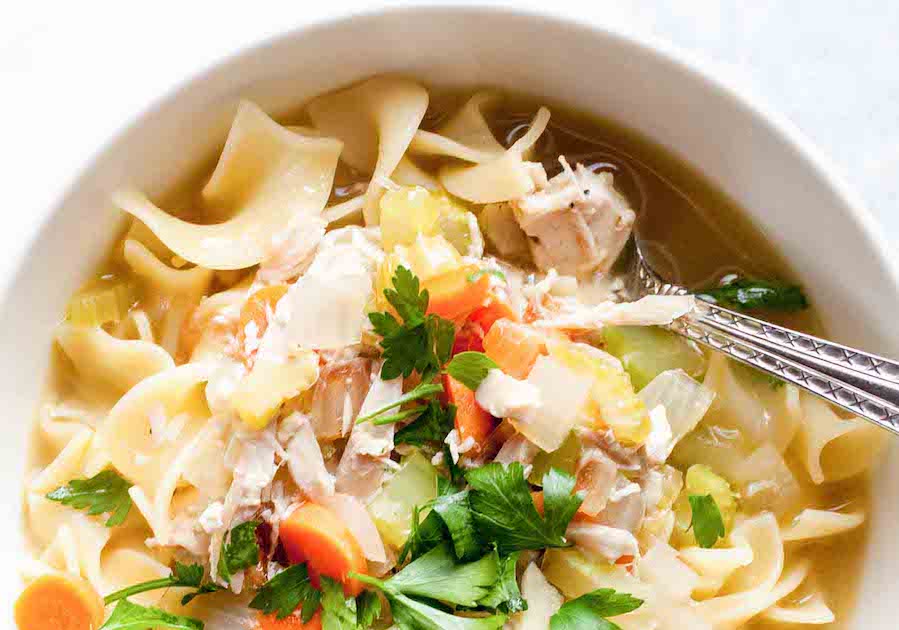 You will need:
1 large onion, chopped
3 large carrots, sliced
4 stalks celery, chopped
salt, to taste
black pepper, to taste
3 cloves garlic, chopped

500g cups shredded chicken breast

½ cup fresh parsley, chopped

parmesan cheese, shredded, to taste
What to do:
Heat the olive oil and add the onion, carrots, celery, and 1 teaspoon each salt and pepper. Stir frequently until the vegetables are very soft, about 15 minutes.
Add the garlic and cook until fragrant, about 1 minute.
Add the chicken stock and bring to a boil.
Add the noodles and cook 6 minutes, then add the chicken and cook about 2 minutes more, until the noodles are cooked through and the chicken is warm.
Season to taste with salt and pepper, then stir in the parsley.
Serve topped with Parmesan.
Makes 6 serves. Takes about an hour and a half depending on the rice.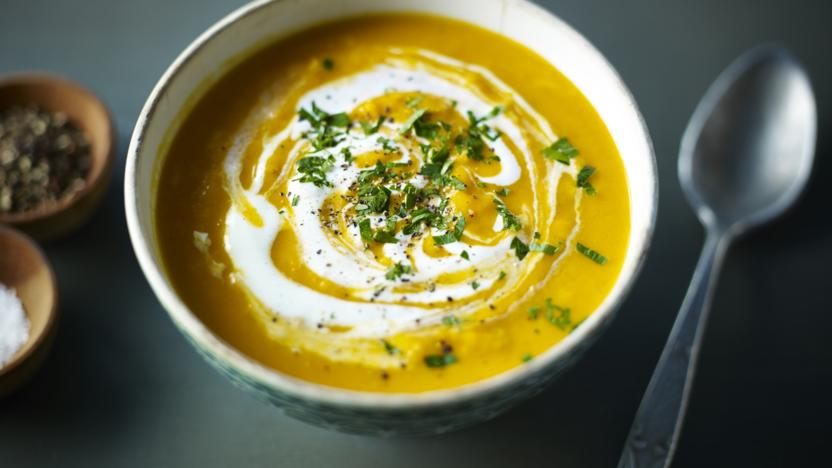 You will need:
1 small onion, peeled and chopped

2 stalks celery, chopped

1 carrot, peeled and diced

60g butter

1 1/2 tablespoons plain flour

1 1/2 teaspoons curry powder

4 cups chicken stock

1/2 apple – peeled, cored and chopped
3 tablespoons basmati rice
1 skinless, boneless chicken breast fillet – diced
salt and freshly ground black pepper to taste
1 pinch dried thyme
125ml thickened (45%) cream
What to do:
Fry onions, celery, carrot and butter in a large soup pot until soft.
Add flour and curry powder and cook 5 more minutes until veggies are coated and fragrant.
Add chicken stock, stir and bring to the boil. Simmer about 1/2 hour.
Add apple, rice, chicken, salt, pepper and thyme. Simmer 15 to 20 minutes, or until rice is done.
Stir in cream and serve.
You will need:
1

large onion,

finely chopped

2

large carrots,

peeled and finely chopped

2

celery ribs,

finely chopped

4

garlic cloves

crushed

1

bay leaf

1

tbsp

dried mixed herbs

1

tsp

chilli flakes/red pepper flakes

(optional)

5

cups

broccoli

stems removed and finely chopped

6

cups

chicken stock/broth

(home-made or good quality bought)

2

cups

of

milk

2

tbsp

cornflour/cornstarch

mixed with 2 tbsp water

2

cups

shredded chicken (use rotisserie chicken to save time)

salt and pepper

to taste

lemon juice

to taste
What to do:
Sauté the onion, celery, carrot and broccoli stalks in a splash of oil until soft and fragrant and just starting to brown(10 minutes).
Add the garlic, bay leaf and herbs and sauté for another minute.
Adding the chicken stock, milk and cornflour mixture. Bring to a simmer.
Add the broccoli florets and shredded chicken.
Cook for 15 minutes then season with salt, pepper and lemon (optional).
Serve with crusty bread.
Makes 4 serves. Takes about an hour and 10 minutes. Vegetarian.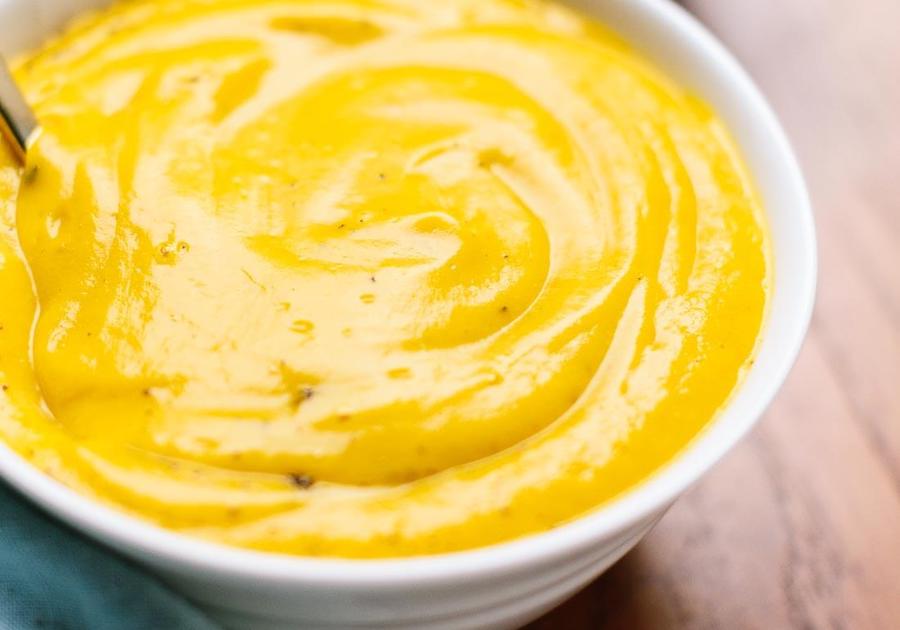 You will need:
1

large butternut pumpkin (about

1.5

kilos), halved vertically and seeded

1 tablespoon

olive oil, plus more for drizzling

½ cup

onion, chopped

1 teaspoon

salt

4

garlic cloves, pressed or minced

1 teaspoon

maple syrup

⅛ teaspoon

ground nutmeg
Freshly ground black pepper, to taste
Up to

4 cup

s vegetable broth

1

to

2

tablespoons butter, to taste (substitute olive oil for dairy-free/vegan soup)
What to do:
Preheat the oven to 200° C.
Line a baking sheet with baking paper and drizzle each half of butternut pumpkin with just enough olive oil to lightly coat the inside (about 1 teaspoon each). Rub the oil over the inside and sprinkle with salt and pepper. Turn the pumpkin face down and roast until it is tender and completely cooked through, (about 45 to 50 minutes).
Once cool, use a large spoon to scoop the pumpkin flesh into a bowl and discard the tough skin.
Meanwhile, in a medium skillet (or large soup pot, if you'll be serving soup from that pot), fry the onion in olive oil. Add salt and stir until soft and golden.
Add the garlic and cook until fragrant, stirring frequently.
Transfer the cooked shallot and garlic to a blender or food processor. Add the reserved butternut, maple syrup, nutmeg and a few twists of freshly ground black pepper.
Pour in 3 cups vegetable broth, being careful not to fill the container past the maximum fill line (you can work in batches if necessary, and stir in any remaining broth later). Securely fasten the lid and select the soup preset, being careful to avoid hot steam escaping from the lid. The blender will stop running once the soup is super creamy and hot.
If you would like to thin out your soup a bit more, stir in the remaining cup of broth.
Add 1 to 2 tablespoons butter or olive oil, to taste, and blend well. Taste and stir in more salt and pepper, if necessary.
Serve immediately, topped with parsley and more black pepper (optional).
You will need:
1

tsp

olive oil

1/2

cup

onion,

chopped

4

cloves

garlic,

chopped

1/2

cup

celery,

chopped

3/4

cup

carrot, chopped

1 cup zucchini, chopped
800g

canned diced tomato

425g

canned cannellini beans

or other white beans or combination of white and kidney beans
You will need (cont.)
3

cups

of

water

1/2

tsp

salt

1/2

tsp

oregano

1/4

tsp

thyme

Black pepper to taste

1/2

cup

elbows or other pasta

(

use gluten-free if needed)

1

cup

baby spinach

3

tbsp

b

asil, chopped

vegan parmesan

for garnish (optional)
What to do:
Heat oil in a large saucepan over medium heat. Add onion and garlic and cook until translucent.

Add celery, carrots and tomato. Bring to a high heat.

Add the beans, zucchini, water, salt and spices and cook for 15-20 minutes.

Add 1/2 cup pasta and simmer for 10 or more minutes. Taste and adjust salt, herbs and heat.

Fold in spinach and 2 tbsp chopped basil and simmer for another minute.

Serve hot garnished with fresh basil and vegan parmesan.
Ready to kickstart your wellness journey?