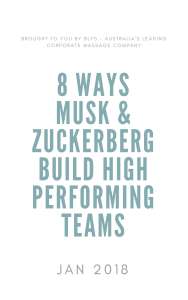 How Musk & Zuckerberg Build High Performing Teams
Enter your email and we'll send you the ebook instantly.
Learn The Secrets Behind Musk's & Zuckerberg's High Performing Teams
While Musk & Zuckerberg could be considered some of the greatest entrepreneurial leaders of our generation, none of  their achievements would have been possible without an extraordinary team behind them.
We have compiled an eBook that examines 8 key ways these leaders are able to muster an amazing workplace culture and morale.