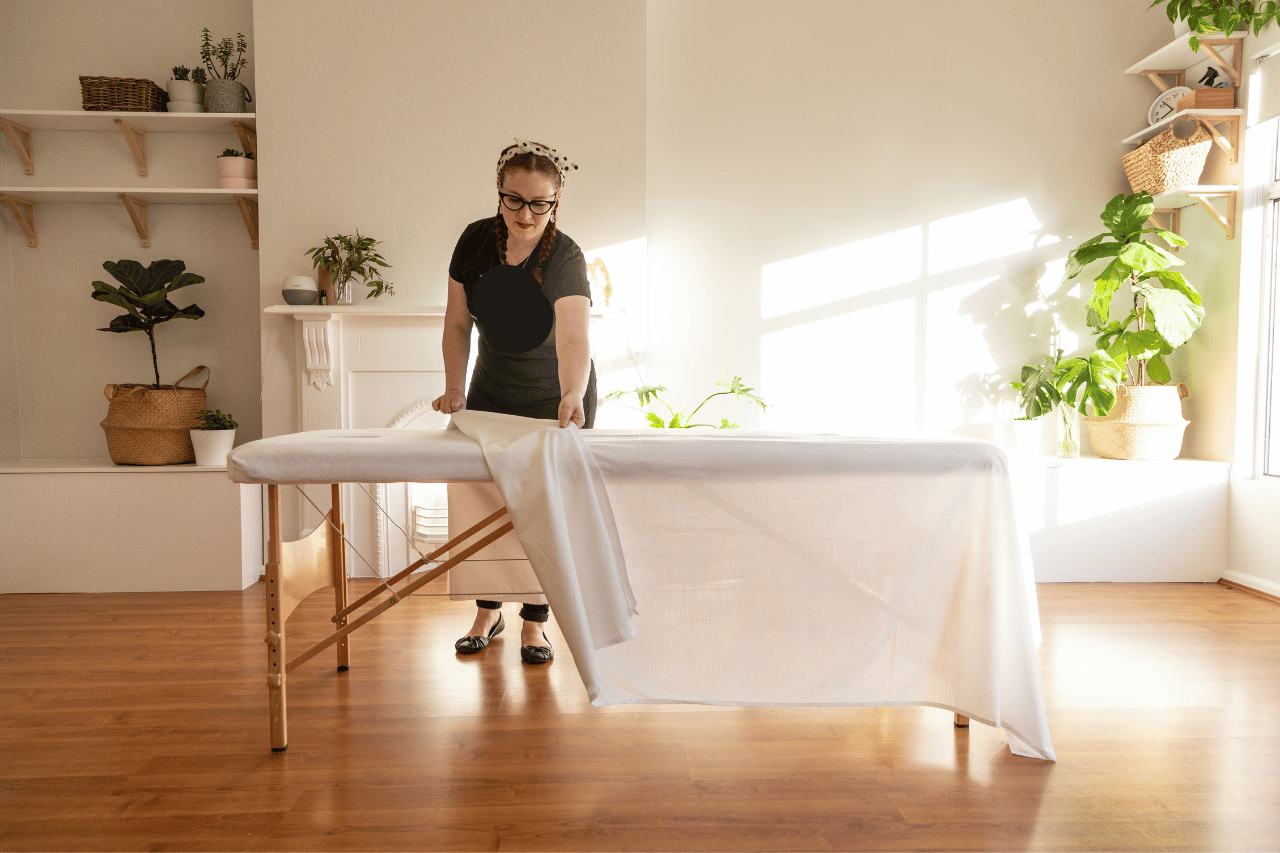 There are so many perks to being your own boss and running a mobile massage business. You've got the freedom to pick your own hours, set your schedule and refine the exact services you offer to your clients. 
But there are some extra considerations, especially when it comes to how seasonal influences can affect your massage business (such as the holiday season). 
With the Christmas and New Year period fast approaching, you might notice your regular clients are pausing their usual weekly bookings to go on holiday. 
So, what can you do to navigate changes to your client booking schedule and keep your business thriving into 2023 (and beyond)? We've rounded up a stack of practical tips and tricks to help mobile massage providers earn a sustainable income, expand their client base and improve their online presence during the holiday season.
How the holiday season can impact mobile massage businesses
Over the summer break, it's common for your calendar to change as your regular clients travel overseas and interstate. If you're noticing your booking calendar has more availability than usual, it might be time to broaden your horizons and look for new ways to source clients.
Are you wondering "how can I get more clients for my massage business?" during this time, you've come to the right place.
If you're a massage therapist and haven't signed up to the Blys platform, now is the perfect time to register as a mobile  massage  provider. Blys  lets you take control of your mobile massage business by introducing you to clients in your area and helping you reach new clients over the holidays and beyond and secure more bookings so you're still earning a sustainable income.  
As a Blys provider, you'll score a stack of benefits including:
Earning 2-3x more than in traditional spas and salons

Accept only the jobs you want with no obligation to work set hours

Tap into 150k+ clients across Australia
Now you know how to find thousands of new clients, we've put together a guide to keep your mobile massage business going through the holiday season with some handy tips and tricks to make sure you're starting off 2023 on the right foot.
Ready to promote your business and start marketing your massage therapy business? Let's dive in!
1. Build your Blys profile
If you're already a provider on Blys or you are just starting out, then the holiday season is the perfect time to build and craft your Blys profile.
Maybe you've brushed up on your expertise, included more massage services in your offering or got some new equipment. While the holiday season can be slow for business, in the meantime you can spend time updating your bio and adding some more massage services you're available for  so customers can easily filter their searches on the Blys Provider Directory and find you.  
If it's been a while since you've updated your profile photo on the Blys platform, then now's the perfect time to whip out your camera to take a professional headshot. This can help you reach potential new customers in the new year with a great first impression.
2. Start your own social media account 
Are you curious about "how do you market a massage business?". Our tip: get started with social media marketing. 
We all know how powerful social media can be in building your online presence, so why not take advantage of this power and start your own social media account to promote your mobile massage business? 
Having a great social media presence can help you connect and reach potential clients in your local area. Plus, it's also a great way to showcase your experience and expertise to new clients who may look at your profile to see if you'd be a good fit. 
You could use the holiday season to reach out to previous clients and post customer testimonials, film behind-the-scenes content and show off what products you use in your massage treatments so clients know what to expect from you as a provider. 
The best bit? Share your content with the Blys team and they may post it on the Blys Instagram account directing their 20,000+ followers to book you directly!
3. Clean and update your massage equipment
If you've had a busy year with a ton of bookings, the holiday season can be a great time to upgrade and refresh your massage equipment. Take stock of your tables, towels, and other equipment and give your gear a deep clean to start 2023 on a fresh note.
It's also important to review your equipment to see if you need to upgrade any of it or add some new equipment to your massage kit. When you're going to clients' homes it's important to look as professional as possible and that includes your equipment. 
Make sure your massage table is sturdy and in good condition, and ensure your towels and sheets are looking good, clean and smelling nice. If you've recently up-skilled and learned a new massage treatment that requires new equipment such as hot stone massages, it's likely you'll need to pick yourself up some hot stones and build your portable massage kit.
Did you know that Blys has a 10% discount with Firm & Fold, just for Blys Therapists in case you need to buy new equipment? Just another perk of joining as a Blys Provider!
4. Upskill with an online massage course
The holiday season is a great time to keep yourself busy by upskilling and learning some new massage treatments and techniques. This is a great way to learn some new niche techniques, diversify your skills and attract new clients in the new year when business picks up again. 
When you have the downtime here are some great reasons why you should up-skill with an online massage course:
Offer niche services:

with broad knowledge and expertise in a variety of niche massage services such as

lymphatic drainage massage,

aromatherapy massage

or

cupping therapy

  you'll be able to secure more clients and boost your earning potential. 

Expand your service offering:

if you're looking to secure more bookings in the new year, the more massage techniques you know the more services you can offer clients and you're more likely to show up on the Blys Provider Directory when clients are filtering based on service type. 

Stand out to potential clients:

if you've brushed up on your knowledge by learning new techniques and treatment modalities you can show your clients that you've put the time and effort into becoming an expert in your field. 

Increase career satisfaction:

not only can upskilling help you stand out to potential clients but it keeps your days interesting by staying passionate about what you do, particularly if business is slow during the holiday season. 
There are plenty of online and in-person short massage courses to keep you busy during the holiday season and luckily we've done the research for you and compiled our top 5 short massage courses to expand your massage business.
Your mobile massage business doesn't have to take a backseat this holiday season. There are plenty of ways you can keep yourself busy, attract new clients and start 2023 off on the right foot by updating your Blys profile, taking your social media to a new level and even upskilling to offer more services.