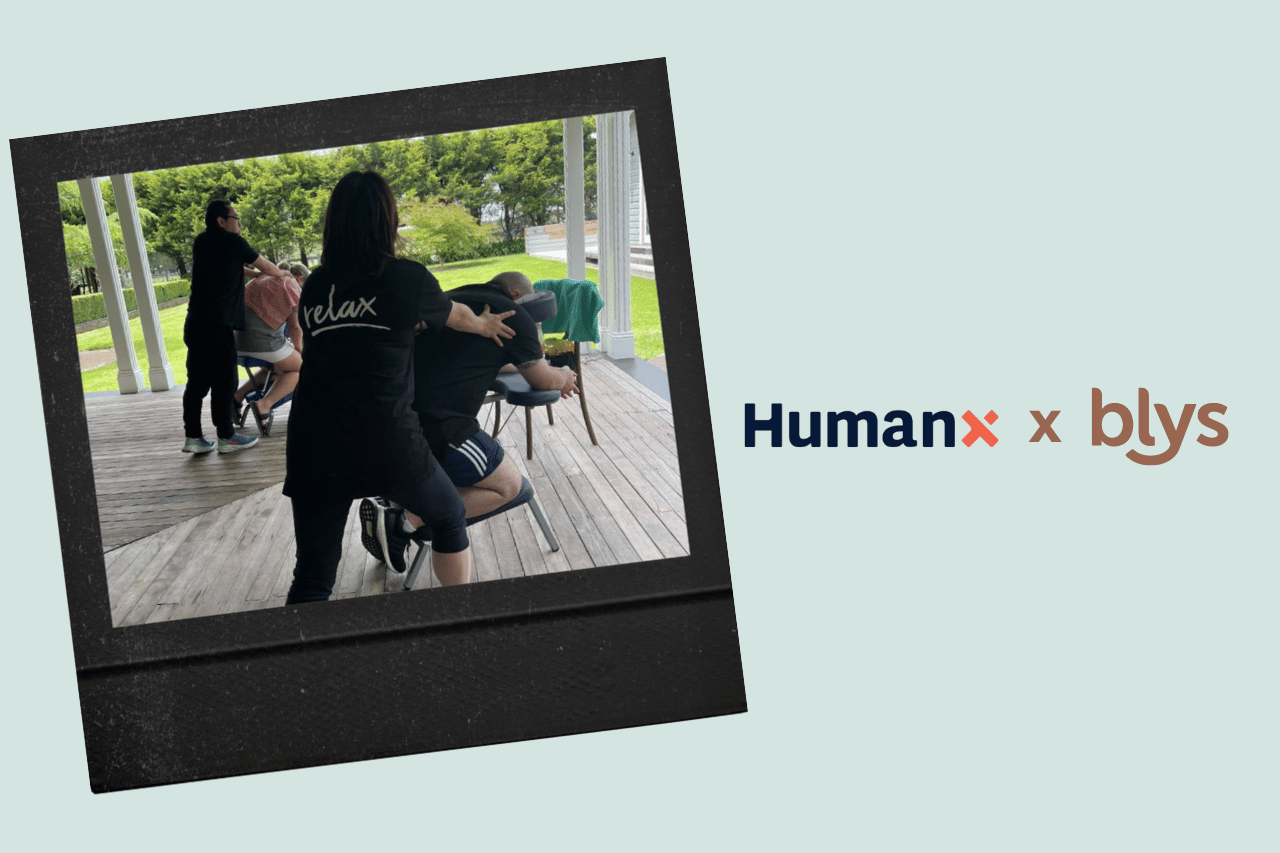 When you think about the typical annual company retreat you're likely thinking of workshops, team building activities and probably some alcohol fuelled late nights.
But times are changing and more and more companies are opting for retreats that incorporate rest, relaxation and wellness to ensure their team come back feeling re-energised and ready to take on the year ahead with a fresh perspective. 
We recently spoke to Human X HR partner Tahnee McWhirter to learn what inspired her to incorporate wellness activities into their company retreat and her advice for other businesses wanting to create more meaningful engagement opportunities with their teams.
Q: As a HR consultancy, you understand the importance of employee  and culture development better than many. Prior to engaging with Blys what did HumanX HR's employee engagement activities often look like?
A: Although our brand is relatively new, we've been creating and co-designing in the employee engagement space for a long time so we've seen a few evolutions of what works.
Our engagement activities are generally focused around connection, collaboration and purpose.
Connection: to ourselves, our team, and our community. This has looked like wellness and health, social impact, and of course play! Each of our clients have different cultures and rituals and inevitably go through phases. From fitness coaches, nutritionists, PTs, yoga, volunteering. Our team connections to be honest mostly focus on food! Connecting over a beautiful table and delicious feast is a great way to find commonalities. Equally, the after dinner debates can be insightful!

Collaboration: We are HR professionals and we don't like working alone! There are hugely diverse viewpoints in our team which engineer opportunities to collaborate on client work, internal projects, and team engagement activities. By building collaboration into our workflows, the team is nourishing their needs with very little friction. Inevitably this builds great habits of seeking connection which is so vital in a distributed team.

Purpose: Humans want to do meaningful work. The more we can understand their personal values and motivations, and create opportunities for their work to connect to their purpose, the richer our culture becomes.
Q: What inspired you to incorporate wellness activities like yoga and massages into your agency retreat?
A: The planning of our Summer Retreat started with an agenda around learning and connection. But then we realised that actually, what our team really needed was a break! It has been a rough few years to be working in HR, let alone HR consulting. And this year for the HumanX team, there have been a lot of people choosing change, choosing to be brave, and choosing to build something special together. But it was time to put a pause on the hustle. So we cut our agenda in half and created moments for the team to breathe. Everything was optional although every single person indulged in the Blys massages! We had yoga, a private movie cinema (with a candy bar of course), tennis, squash, a pool, a hot tub and plenty of time to take afternoon naps and enjoy leisurely chats in the sun.
We have been engaging Blys for our clients for many years now – using the gift vouchers, or arranging in-office massages for wellness activities. The feedback has always been so positive, so it was wonderful to be able to give our team the opportunity to experience Blys for themselves.
Q: How did everyone feel after the massages with Blys?
A: The massages really played into our pause and breathe intention. It was a beautiful setting at Kalinya Estate and the massage therapists were extremely thoughtful, planning their location on the property to be peaceful which really let the team have a moment of mindfulness.
Q: How did you find the experience of booking a team massage session with Blys? 
A: Absolutely. Booking is super simple, the service team are willing to go the extra mile to accommodate unique requests and out-of-ordinary locations. The massage therapists were professional, qualified and very friendly.
Q: What advice do you have for other businesses looking to create meaningful engagement opportunities with their teams?
A: Particularly for distributed teams where people are working remotely or in hybrid arrangements, opportunities to connect are so important and too often wasted. A poorly planned agenda will result in team building activities that are a sugar hit, instead of being vehicles for building culture and change. Put thought into the agenda and add non-traditional activities that build culture.
Got an upcoming team event that you could use some help planning? No matter where you are – at the office, an event or an off-site location – our workplace wellness consultants are trained to help you plan an inclusive and memorable experience for your workplace.