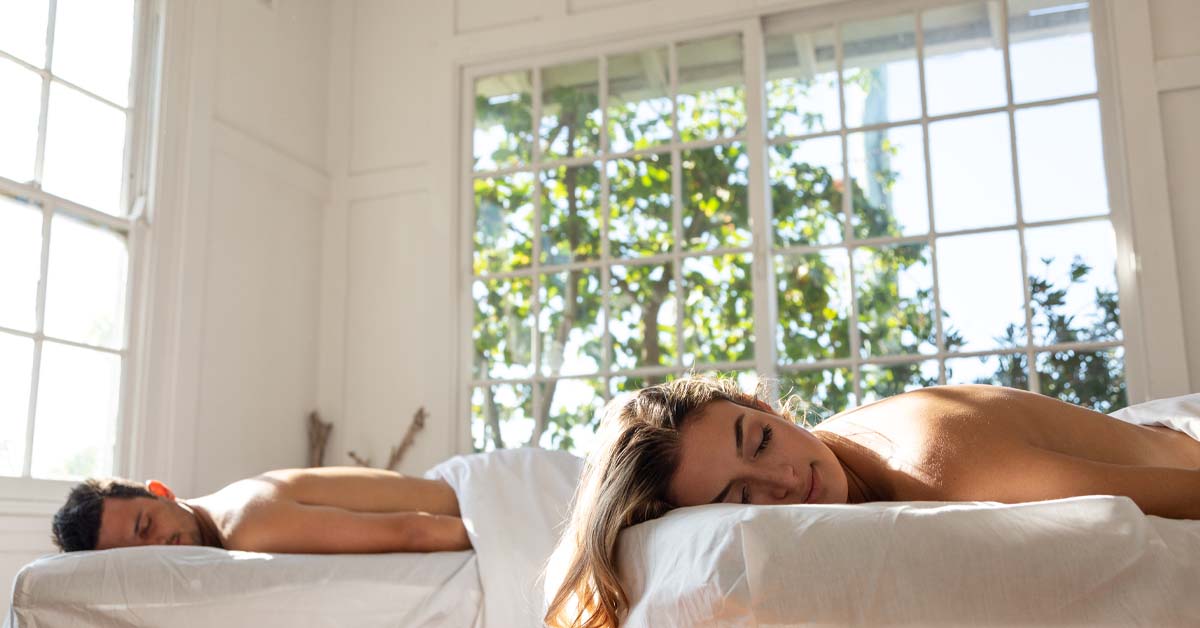 Is staring lovingly into each other's eyes over a candlelit dinner starting to feel a bit too routine? Has the daily grind dimmed the spark and made things a little too comfortable?
Whether you're looking to turn up the heat or treat that special someone to a dose of self-care, a couple's massage might be just what you both need. 
An in-home couples massage lets you indulge in your own shared moment of wellness, without worrying about what to chat about next, how to split the bill or how you'll get home. 
A couples massage is entirely about making you and your partner feel zen and relaxed. With at-home couples massage, you can skip the scratchy robes and get straight to blissing out. And who better to share that extra shot of dopamine with than your partner?
What is a couples massage?
Not sure how common it is to get a massage with your partner, or maybe you're thinking to yourself, "are couples massages weird?" You're not alone! It's a common feeling, but with a couples massage home visit, you'll be able to relax in the comfort of your own space with highly qualified therapists that come to you.
Couples massages allow you and your partner to enjoy relaxing, fully-body massages either side-by-side (with two therapists) or one after the other (with a single therapist). By sharing the same room during your treatments, you can enjoy the full benefits of a relaxing massage session alongside that special someone. 
What to expect at a couples massage
Not sure what the benefits of getting a massage with your partner are, or maybe you're wondering, "is a couples' massage a good date idea?" 
There are a few reasons you might want to share this intimate experience with someone you're dating, whether it's in the hopes of getting to know each other better, or you've been together a while.  
Getting a massage is all about tension release, using a physical touch that kneads, rubs, and presses on the body for the purpose of relaxation and stress relief. And with your partner by your side, this experience can foster a sense of closeness, strengthening your feelings of attachment and affection.
Prioritising self-care releases oxytocin (a.k.a. the love hormone) which boosts feelings of bonding, trust, and can even help improve communication.
How to prepare for a couples massage
Wondering what to wear to a couples massage is a common question. Luckily we've got some tips. At Blys, we want your in-home massage to be as relaxing as possible, so what you wear is up to you.
While we do require all clients to wear underwear, the rest depends on the type of massage you've booked. For sports massages, you may opt to wear activewear, while for chair massages you'll stay fully clothed.
If you've opted for anything that focuses on long strokes of the body, and providing you feel comfortable disrobing down to your undergarments, then go for it! Alternatively, opt for light comfortable layers. 
Your therapist will give you the privacy to prepare and only enter the room when you're comfortable and ready. They'll also come prepared with fresh towels and sheets for draping in an origami style, so you never feel too cold or too exposed.
How does a couples massage work?
Ready to book a mobile couples massage, but still curious about a few details? 
There is a range of different ways to enjoy a couples massage. You can choose between having two massage tables and two therapists working at the same time, or you can go one after the other, sharing a table and massage therapist.  
Your massage therapist will arrive five to 10 minutes early to set up and ask you both a few questions like if you have any injuries or if you'd like to focus on specific body parts.
Leaving the room, you'll get some time to settle in on the table, or in the chair if you've opted for a seated massage, and your therapist will re-enter when you're ready. 
After the session, you'll get the opportunity to ask any questions, and the therapist may give some suggestions as they take down their equipment.
If you've booked an hour-long massage then that's what you'll get! Set-up and take-down times won't eat into your massage time so remember to choose a time slot with a little extra padding on either side so you don't feel rushed.
How much does a couples massage cost?
Now the bit you've been waiting for: how much is a couples massage? Well, that all depends on how long you want your session to be. Let's break it down:
For 60 minutes the cost will start at $119 per person

For 90 minutes it will start at $169 per person 

For 120 minutes the cost will start from $219
If you're not sure how long to book for, remember it's common to ask for a massage to be extended while in the session, and our therapists will accommodate that request whenever possible. 
Hot tip: did you know that you can book any type of massage style as a couples massage treatment? Whether you're looking for a calming Swedish massage, a deep tissue treatment or even a relaxing Lymphatic Drainage massage, you can request these massage types at your next at-home couples massage session.
Want to surprise your partner but not sure what times suit their schedule or which service they'd opt for? Gifting them a couples massage voucher gives you both freedom, flexibility and choice to book a treatment on your own terms. 
Where can I get a couples massage?
Sold on the idea of booking a couples massage home visit? If you're based in any of the United States' major cities, using a platform like Blys will connect you to your qualified local massage therapists.
With Blys' mobile app, you can discover and book in-home treatments in a quick and easy way so you don't have to spend hours searching "couples massage near me."
Not feeling ready to walk into a day spa on your own, or simply want to make the day as relaxing as possible, an at-home couples massage delivers all the tranquillity and rejuvenation of a spa treatment right to your doorstep. 
Whether you want to have two separate massage therapists or book the same therapist for back-to-back appointments you can find qualified massage providers to come to you with Blys.
Ready to feel the loved-up benefits of an at-home couples massage?
Find a qualified massage therapist and let Blys come to you!
Book Now