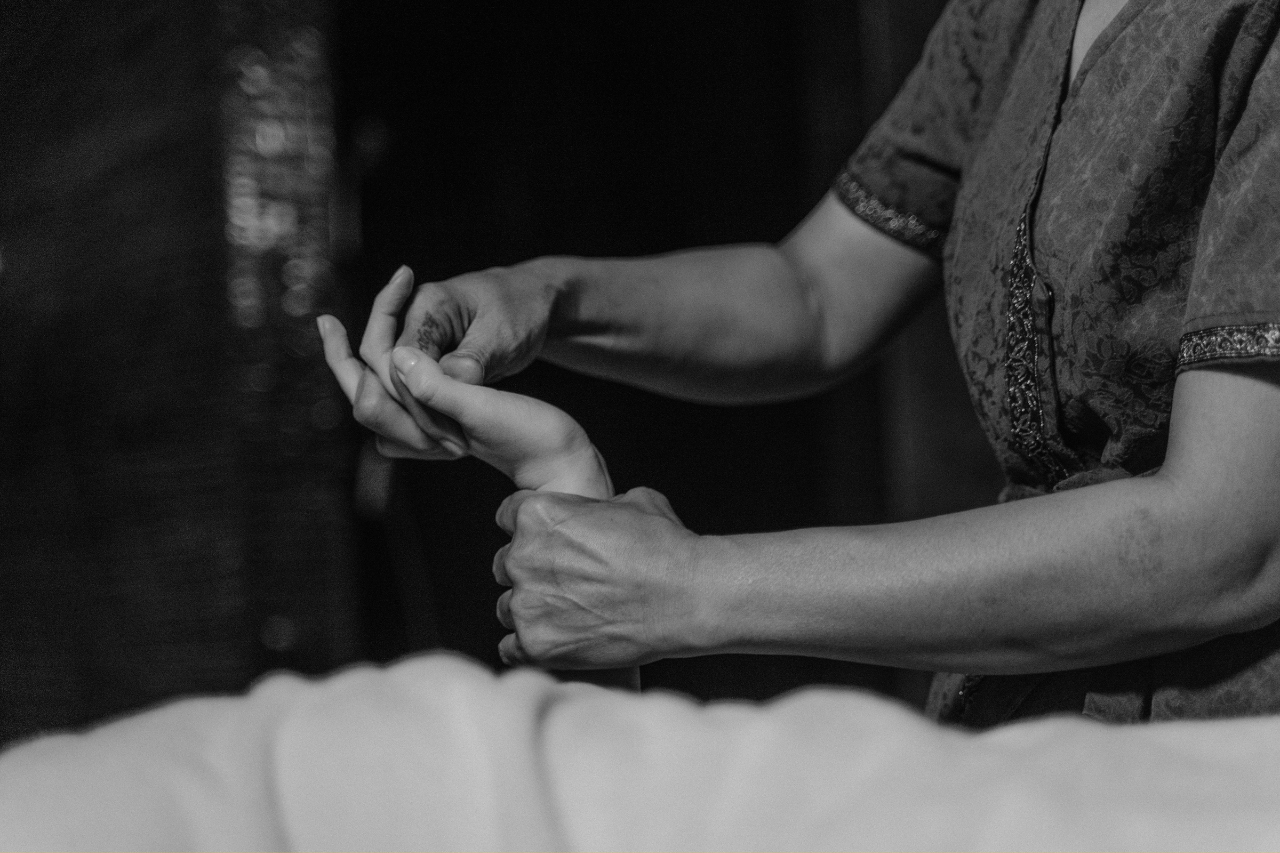 Think all massages involve lying on a table and letting your muscle aches and pains melt away? Think again. 
Thai massage is one of the most unique massage treatments out there (in fact, you might have heard it called 'Thai yoga' instead). Unlike many massage treatments, a Thai massage will see your therapist actively stretching and maneuvering your body. 
While this ancient practice has been used for centuries across Thailand, it's relatively new to Western cultures and can be a tad intimidating for first-timers. 
But never fear: we're diving deep into everything you need to know about Thai massage, what to expect in your first thai massage session and the health benefits of booking a Thai massage. Let's dive in.
What is a Thai massage?
Thai massage (sometimes called Thai yoga or Thai yoga massage) first emerged in India over 2,500  years ago. 
Drawing influences from Ayurvedic and traditional Chinese medicine, Thai massage steers clear of typical Western massage techniques used in Swedish or deep-tissue massage. 
Instead, Thai massage will use full-body movement and techniques such as stretching, pulling and rocking to promote relaxation and improve flexibility and circulation. It may take place on a massage bed or in a traditional setting where you're fully clothed on the floor using a cushioned mat. 
Types of Thai massages
All types of Thai massages are based on the same principles and techniques. However, each session can differ depending on what area you're focusing on and what aches and pains you're navigating.
Let's dive into the types of Thai massage on offer and why to expect from each type of treatment.
1. Thai massage on table
Thai table massages are relatively new, as traditional Thai massages generally take place on a mat on the floor.
However, in Western cultures, massages are typically performed using a table so practitioners have adjusted their techniques to suit a broader range of clients.
Thai table massages incorporate the same techniques used in traditional Thai massages. Some practitioners choose to get up on the table with the client, however, this varies from person to person and can sometimes be difficult to do.
When booking a Thai Massage with Blys, you can expect your massage therapist to arrive with a massage table ready to take you through your session.
2. Foot Thai massage
A Thai foot massage a.k.a Thai reflexology combines the healing benefits of reflexology with therapeutic massage techniques. Thai foot massages focus on the lower leg, knee and foot within the massage.
Thai foot massages are used to stimulate areas of the feet where blocked "Prana" energy lies within the body's Sens lines (drawing on traditional Hinduism).
Thai foot massages are based on the principals that when energy lines are blocked illnesses can manifest in the body. So, unblocking the energy in the Sens lines helps to balance a healthy flow of energy within the body where the mind, body and soul are linked.
3. Thai relaxation massage
Thai relaxation massages combine the traditional techniques and practices of a standard Thai massage. Typically, Thai massages do not use oil and the client remains fully clothed.
However, Thai relaxation massages can draw on newer Western techniques and might include oils and undressing down to underwear to help you zen out during your session.
4. Traditional Thai massage
A traditional Thai massage should feel more like a relaxed, assisted yoga session where you remain fully clothed on a mat on the floor.
Traditional Thai massages require you to participate more actively than standard massages. While your therapist will guide the session, you won't be able to doze off during your booking.
Practitioners use their whole body to stand, kneel and even walk on your body to create deep pressure. You'll be guided into stretches to reduce muscle tension and your therapist will use their hands, thumbs, elbows and even their feet.
What to expect from a Thai massage
Ready to calm those pre-massage nerves? When it comes to a Thai massage, here's what you need to know. 
Typically your massage therapist will recommend you    either  wear loose-fitting clothing (yep, there's no need to strip down for your session) or undress to your underwear, chat with them before hand and choose whatever option you're comfortable with.  As with all massages, your massage therapist will be there to guide you through the experience from start to finish.
After your initial consult, expect to be taken through various yoga positions, stretching and rocking techniques. It may take a minute to get used to Thai massage techniques as it's quite different from typical massage techniques. 
Should a Thai massage be painful?
Thai massages shouldn't be painful. But, it might take some time for your body to get used to the techniques and movements used. 
Since Thai massages incorporate yoga-like movements and stretches, your therapist will use pulling and stretching techniques which may be a little uncomfortable, particularly if it's your first time receiving this kind of massage. 
If you're feeling any discomfort or pain, like with any massage, it's important to speak up so your massage therapist can make the necessary adjustments.
Thai massage vs deep tissue massage
Are you wondering what's the difference between a Thai massage and a deep tissue massage? While these treatments have some similarities, there are important differences between these massage types. 
A deep tissue massage is used to reduce pain. This massage alleviates muscle knots by applying pressure to the areas of injury and pain. The pressure applied during a deep tissue massage releases toxins within the body which promotes faster healing and muscle recovery. 
On the flip side, a Thai massage requires more active participation throughout your session. A Thai massage uses firm pressure and muscle stretching based on ancient healing practices, and most commonly takes place on a cushioned floor mat if you are in a traditional spa or setting. 
Thai massages help to release toxins from the body and use yoga-like stretches help to increase blood circulation to promote a healthy body, mind and soul.
What techniques are used in a Thai massage?
Thai massages draw on the ancient traditions of Hinduism, using physical movement and active stretching to move Prana (a.k.a. energy) through your body.
Your therapist will guide your body through yoga-like movements along with rocking and pulling techniques and movements on your body to calm the nerves and promote blood circulation throughout the body.
The deep stretches commonly used in a Thai massage are said to promote flexibility and help reduce muscle tension.
What are the benefits of a Thai massage?
So, why should you consider booking in for a Thai massage? Let's take a closer look at the various benefits of a Thai massage:
Who should and shouldn't get a Thai massage? 
While Thai massages offer a stack of health benefits, it's important to know when they could do more harm than good. 
A Thai massage isn't advised for pregnant people, as the techniques can be uncomfortable or hard to perform during pregnancy. Instead, it's wise to book a specialised prenatal massage that is performed be a trained therapist and uses tailored techniques to relieve stress and discomfort. 
Plus, if you're navigating any of the following medical conditions, Thai massages may not be your best option:
High blood pressure

Cancer

Heart disease

Blood clots 

Hernias 

Osteoperosis

Arthritis 
Always remember to check with your doctor before booking in for a Thai massage to make sure you're picking the right type of massage for your body. 
Now that you're up to speed on the world of Thai massage, why not get one delivered to your door? With Blys, you can book an in-home Thai massage from an qualified and carefully vetted massage therapist  anywhere, anytime.
Ready to try the ancient healing practice of Thai massage for yourself? 
Book your first in-home treatment and use the code NEW1 at checkout for $10 off
Book now